During the fifteen years YIT has been present in the Czech market, the company has seen a significant change in the behaviour of its clients, their demands and its emphasis on high quality. If we add to this the recent rise in energy and building materials prices, we are motivated to look for new materials with minimal environmental impact, says Dana Bartoňová, Sales Director of YIT Stavo in an interview with Property Forum.
At the beginning of 2022, in one of your interviews, you promised to put 600 new flats on the Czech market this year. Have you succeeded?
In 2022, we put two projects on sale - Happi Milanská and Rivi Bachova (119 apartments in total). We were not able to get building permits for the other planned developments last year, but we still believe that we will launch these projects this year. These projects are located in Prague 5, 9 and 12, for example, and we have others in the pipeline and are working intensively on them. We are also preparing our first non-Prague development in Kladno, where we plan to gradually build about 800 apartments in stages.
YIT has brought Finnish-style housing to the Czech market. But it's not just saunas, is it? What does Finnish-style housing really mean?
You can't really characterise Finnish living with saunas only. In general, it is living in harmony with nature, with attention to quality furnishings and materials, as well as sustainability and respect for the environment. In terms of architecture, it is characterised by simple and clean lines, with an emphasis on cleanliness and lightness in the interior design, using a combination of modern elements complemented by traditional natural materials.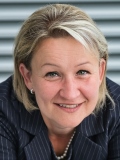 Dana Bartoňová
Sales Director
YIT Stavo
Dana Bartoňová has been working at YIT Stavo almost from the very beginning of the company's operation in the Czech market. She has extensive experience in managing the acquisition of residential and commercial projects, their development and subsequent marketing and sales. Prior to YIT, she was involved in the entry of the banking fund of the Israeli bank Poalim into the Czech and Slovak markets. She worked at King Sturge and subsequently held the position of Marketing & Sales Director of the Dutch property development company SHIRAN R/E Holdings. She studied Estate Management at the University of Reading.
More »
YIT has been operating in the Czech Republic as a company since 2008, so 2023 will mark the company's 15-year anniversary. What has been the biggest change you have observed in the market during this period?
Fifteen years is a relatively short period of time in terms of the construction industry, but for us, at YIT it is a significant period. Client behaviour, demands and the emphasis on high quality have changed. I remember, for example, that in the beginning, we struggled with selling parking lots. Clients were not willing to buy them as the price seemed high. And now they are demanding one or two parking lots for their apartment. Similarly, they want to buy efficiently designed flats where there is no wasted space, for which they are currently paying a high price. There have also been changes and developments in the construction industry in recent years. For example, our company has been using prefabricated bathrooms in its projects for two years, so-called bathroom pods, which are manufactured and assembled off-site. This saves labour on site, and the conditions of the workers are very comfortable for the work. All this has a positive effect on the overall quality of the prefabricated product.
How much has the current geopolitical situation in Europe affected your business in the Czech Republic?
The geopolitical situation affects especially the construction segment, where our construction costs are increasing. Despite this, we adhere to the agreed contractual prices towards our clients. In general, of course, we are dealing with a reduced interest in buying apartments due to the current situation, given our clients' concerns about the energy crisis and the associated high costs. High inflation and mortgage interest rates are causing our clients to worry about being able to meet their obligations. However, current forecasts show that inflation will come down, and I expect loan rates to come down with it.
As a developer, how are you handling rising construction costs and energy prices?
The rise in energy and building materials is of course reflected in the development and will be even more so due to rising inflation. It is not only for these reasons that we are constantly trying to find new materials with a minimum burden on the environment. We have therefore introduced, for example, construction with concrete made from recycled aggregates. The main advantages of so-called 'green' concrete include saving natural resources and the energy to extract them, promoting a circular economy by using secondary materials and reducing the carbon footprint. In the Vesi Hostivař complex, for example, its incorporation will reduce CO2 emissions by almost 3%.
We also implement modern and innovative prefabrication technology to speed up and improve the quality of construction. We first applied this to bathrooms, for example, in most of the apartments in the Kemi and Ranua phases of the Lappi Hloubětín project. However, we are expanding the use of prefabricated elements. In the Happi Milánská project, we are using prefabricated elements not only for the bathrooms but also for the structures of the pavilions and balconies and for all load-bearing vertical and horizontal structures. We definitely see prefabrication as one of the ways of the future of construction. Our parent company in Finland has a long-standing positive experience with it.
How do you plan to provide energy for your upcoming projects? Are Czech customers open to projects using alternative energy sources?
Our clients are interested in alternative energy sources, especially in connection with savings on energy consumption when using a new apartment or even the whole house. Of course, we see that the future of new homes lies in the combination of modern technologies such as photovoltaic panels for electricity generation, geothermal boreholes with heat pumps for domestic heat production, etc.
We keep the use of renewable resources and energy-saving technologies in mind during the design of all our projects. They include an ESG (Environment, Social and Corporate Governance) strategy in the preparation phase. From the very beginning, each of our projects has a so-called "ESG Card" that tracks its entire progress. The card is prepared by our team with experts in the field, including energy. Together, they determine the parameters and technologies that are suitable for installation in a given project. An example is the Vesi Hostivař project, where photovoltaic panels will be installed on the roof of building E with the ideal orientation and slope. The electricity will be used for partial lighting of the common areas and for ventilation. The PV will produce approximately 8MWh per year and will also reduce CO2 emissions by approximately 7 tonnes per year.
Having already become one of the top five residential developers in Prague, what's next for YIT in the Czech Republic?
Being one of the leading residential developers in the Prague market is a big commitment to existing and future clients. Therefore, our main goal is to maintain our position, which is actually one of the most difficult tasks. We want to continue to develop the quality of our housing and at the same time come up with innovations in construction and environmental protection.
YIT Czech Republic recently announced plans to build apartments outside of Prague for the first time, on the outskirts of Kladno. What has motivated this decision? Do you plan further projects outside of the capital?
Yes, our strategy includes regional expansion. Therefore, we are also interested in other cities in the Czech Republic, especially around Prague. We chose Kladno in particular because it offers great potential for construction and has good transport access to the metropolis and all the necessary amenities. We generally feel a great demand from our clients for housing outside Prague, but with a commuting distance of max. 30 minutes. Firstly, it is because of lower prices, when for the same amount of money they can afford a larger and more comfortable apartment in the capital instead of a smaller one, and secondly, the location closer to nature plays a role.