While taking care of problems caused by the COVID-19 pandemic, office developers in Poland already plan their strategy for the expected supply gap in the years 2023-24. Jeroen van der Toolen, Managing Director CEE at Ghelamco summarises the year 2020 on the Polish office market and explains why professional office space will be a needed commodity in the long run.
December is a time of summaries and recaps. How was the very peculiar year of 2020 for Ghelamco?
Despite the pandemic, 2020 was very busy for Ghelamco. We put into operation the largest office project in Poland in 2020 – The Warsaw HUB. The complex consisting of 3 towers delivered to the market 113,000 sqm of a modern office, hotel and retail space. Together with IHG Hotels & Resorts, one of the world's leading hotel companies, we opened this month Crowne Plaza and Holiday Inn Express. We have also completed the construction of Foksal 13/15, a luxury residential project in Warsaw.
We were also the first developer to introduce extraordinary anti-COVID solutions in its new projects, such as dedicated application with pandemic mode, UV disinfection system or innovative air conditioning and access control systems. Ghelamco is the first company in Poland to have been recognised by the IWBI (International WELL Building Institute) certifying body as an "early adopter" as a part of the WELL Health-Safety Rating. At The Warsaw HUB, we implemented a unique operating system, which combines the features of a building application, advanced control of BMS and building access control system.
Despite the pandemic, we have also signed several major lease agreements. Among others, two leading real estate advisory firms have chosen Ghelamco projects: Cushman & Wakefield leased nearly 2,500 sqm of modern office space in The Warsaw HUB and CBRE will occupy over 4,000 sqm in Warsaw UNIT, which is under advanced construction and in June 2020 reached a height of 202 m.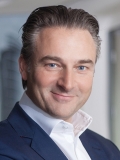 Jeroen van der Toolen
Managing Director CEE
Ghelamco
Jeroen van der Toolen is the head of Ghelamco in the CEE region and has been responsible for the company's operations for the last 14 years. During 2020, under the leadership of Jeroen van der Toolen, Ghelamco completed its flagship office project The Warsaw HUB and luxury residential project Foksal 13/15. The company successfully continues the construction of the Warsaw UNIT skyscraper and soon plans to start other office investments in Warsaw and regional cities.
More »
Many companies are struggling to cope with the effects COVID-19 had for their business. Did the tenants of Ghelamco offices report problems and a need to renegotiate their lease agreements?
Of course, the pandemic has slowed down the office market, but it has not shaken its foundations, which are still very strong. Each of the agreements that we started negotiating before the lockdown is still on the table, and most of them are in the final stage of talks.
The vacancy is expected to rise in 2021 and 2022 and many developers are considering putting new investments on hold. Is Ghelamco among them?
We are ready to start new investments in Warsaw, we are just waiting for the permits. We would like to start the construction of The Bridge skyscraper (so far known as the Bellona Tower). The investment will also include the reconstruction of the Bellona office building, which will become an integral part of the project. Our plans are driven by the expected supply gap in the office market in Warsaw in 2023-2024. It should be also remembered that new investments will contribute to reducing the negative effects of the lockdown on the economy. We also expect that Poland may be a beneficiary of post-COVID changes in the global economy. We see that global companies are now looking at the possibility of transferring part of their business operations to our part of Europe. Relatively good forecasts for the future have led us also to start construction of the Craft office building in Katowice.
How does the future of the home office system look like in your opinion? The workers appreciate it, but it seems impossible for most companies to function and operate in this manner…
Remote working is not something new and we've known for a long time that it works well in some professions. However, it is important to remember that today we all operate in a state of higher necessity, so working from home on a large scale, as we see it now, is not normal. I don't think it will be an alternative, but only an addition to the traditional work model - as it has been until now, although we will certainly have to deal with it more often and to a greater extent. Companies and their employees will not give up their demands and the high office standards they have become accustomed to over the years. Working from home can be an interesting variety in the short term, but in the long run, professional office spaces, that are designed and equipped for an office job, are better. Apart from comfort, there are also purely human needs: being among colleagues, teamwork. This is important for our mental health. Remote working cannot replace that.
The demand in the residential sector remains firm. What are the plans of Ghelamco Residential for the upcoming months?
After the end of the first lockdown we recorded a sharp increase in flats sales - in a few months we sold twice as many flats as in the same period a year before. This is not surprising, given that luxury flats are nowadays a certain investment, which allows us to protect the value of the assets from inflation and to generate a significant profit in the long run. Besides Foksal 13/15, Flisac and Groen in Konstancin, we already have further residential investments under preparation. We will disclose them already next year.
Difficult times are often times of opportunities. Did the pandemic create any for Ghelamco?
Today the biggest challenge is to combine employee safety with business fluency. In many companies, this may require a change in space organization or even an increase in space, as many offices are too small to maintain the needed distance between employees.
The challenge for all of us is certainly to be self-disciplined. People are social beings, we are always trying to keep in contact with other people. These times, when social distancing is becoming necessary, it is very difficult to hold from it back. Because of that, we are focusing on the safety and digitalization of the buildings. I believe that the quality of the projects will become even more important.