The workplace of the future needs to prioritize health, says Darren Allen, Development Manager at Romanian office developer Genesis Property. He talked to Property Forum about the IMMUNE Building Standard, a global certification standard to certify the built environment's level of immunity to withstand present and future health challenges.
The IMMUNE Building Standard was designed and launched last year, shortly after the COVID-19 pandemic. Where is it today?
The IMMUNE Building Standard was initiated in April 2020, shortly after the pandemic started. It was designed as a response to COVID-19 and we had the ambition to transform the built environment for the future and make them more resilient to current and potential health threats. A year into the pandemic, IMMUNE has already reached some important milestones: the world's first IMMUNE office building, the world's first IMMUNE factory, and, very soon, the world's first IMMUNE Resilient (5 stars) building. Also, we have received lots of interest for certification and implementation of measures recommended by the IMMUNE Building Standard that are underway in many buildings, setting the ground for future certifications. Furthermore, The Healthy by Design Building Institute was founded to oversee The IMMUNE Building Standard's future development in the office sector, as well as in other real estate markets. Since health risks have no boundaries when it comes to the built environment, the standard can be adapted for other types of buildings, including industrial, retail, hospitality, residential, health care, and education.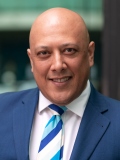 Darren Allen
Director, Healthy by Design Building Institute & Development Manager
Genesis Property
Darren Allen joined Genesis Property in 2020 as Development Manager and has been a key part of the IMMUNE Building Standard since its inception. Darren is a chartered construction and project management surveyor with +30 years of local and international experience, focused on project performance, stakeholder value and developing people. He has a proven track record within the UK, Europe, Qatar and UAE Markets and Sectors like new build, technology, commercial, residential, retail and hospitality. Darren is a Fellow of The Chartered Institute of Building (FCIOB), a Fellow of The Royal Institution of Chartered Surveyors (FRICS) and holds a Doctorate in International Business Administration (DBA).
More »
At the time, you were mentioning high interest for collaboration from multiple professional entities in real estate development, technology, and facility management from the USA, Europe, UAE, and Asia. What synergies have been created and how did they contribute to the evolution of The IMMUNE Building Standard?
The whole world was impacted by the COVID-19 pandemic and leaders, economies, communities, and society at large had to find solutions in a short time. In this context, IMMUNE was created in Romania for the world, as the first open-source standard for the health of built environments, leading to healthier businesses and economies. Since its launch, we have been in constant communication with specialists all over the world to further develop and upgrade the standard. As a result, the index of 120+ measures is constantly evolving and we are looking at other areas in real estate for new potential developments of IMMUNE.
Other standards like LEED or WELL also cover health measures in built environments. How is The IMMUNE Building Standard different?
IMMUNE focuses exclusively on health, being the single most complex standard that serves as a blueprint to improve the immunity of buildings against pandemics and other bacteriological or toxicological threats. The pandemic brought health into the spotlight more than ever. Also, as the entire world is wrapping its head around the importance of not only overcoming the current pandemic but also being ready for the next one, the number of companies that will choose
IMMUNE will grow.
How much has been invested in The IMMUNE Building Standard project so far? Do you think there is room for development or improvement?
Research, development, testing, and implementation of IMMUNE happened in record time, following a €1 million investment, a small amount compared to its complexity and outcome. Of course, when looking back at the achievement, you can always find ways of improving the journey and we continue to strive for excellence. Just like the pandemic, context evolves, so does IMMUNE, because new breakthroughs happen constantly when it comes to health.
A building that will be certified with the highest IMMUNE label is owned by Genesis Property. Will you apply this standard in all of Genesis Property's portfolios?
The H3 office building in West Gate Business District in Bucharest, owned by Genesis Property, will be the first IMMUNE Resilient building in the world. This is a tremendous achievement for both the tenant and Genesis Property, but also for all the people who work in the building. Any owner or tenant occupying the space can choose to certify their building with The IMMUNE Building Standard and infuses collaboration between them to complete the process. We have initiated discussions with tenants in all our buildings in West Gate Business District and Novo Park, with the midterm objective to certify as many as possible.
Where do you see The IMMUNE Building Standard five years from now?
We designed IMMUNE for the future. This pandemic will come to an end one day, but others may follow, and the world needs to be better prepared. With this in mind, we are confident that The IMMUNE Building Standard will become widespread over the coming years.
Meanwhile, many employees continue to work from home. What is the biggest challenge companies are facing when they return to the office?
Only some companies keep employees at home, while most organizations have already adopted a hybrid way of working. About 55% of employees who responded to a survey initiated by Genesis Property say they are working partially (17.3%) or exclusively (37.4%) from the company's headquarters. Almost 41% of respondents are satisfied with their current way of working and 4 in 10 claim their office is now safer than at the beginning of the pandemic. Employees are clearly on their way back to the office. After one year of COVID-19, optimism is slowly returning as an increased number of measures are being implemented to improve safety in the workplace. Health protection measures implemented in office buildings, many of them recommended by IMMUNE, have made an important contribution to regaining confidence, along with progress in vaccinating the population. However, this is just the beginning and the need for coherent health measures widely applied in indoor spaces where people spend most of their time is stronger than ever, so we can all return to a new normal and resume our work at the office on a large scale.
How do you see a healthy workplace looking in the future?
The workplace of the future needs to prioritize health. Measures applied so far in the current context are not enough to ensure the long-term viability of business environments, whether offices or factories or hospitality or retail spaces. Places that imply the presence of communities also require a focused and sustainable approach in creating a truly healthy environment. Moreover, if we extend the "healthy" concept to the mental area, the workplace of the future will need to be much more complex and offer more options regarding networking and entertainment. The office is already an essential element in keeping employees emotionally balanced, this role is clearer than ever. One thing is for sure: office life has changed and hybrid work seems to be the way of the future. People will work for a day or two from home and will come to the office for three or four days to work collaboratively and interact with colleagues. This means that the office is changing, along with people's perception of what it means to work and interact in an
office.