Karol Pilniewicz, Chief Investment Officer of Futureal Investment Partners talked to Property Forum about entering the investment market, the condition of the retail sector after two years of pandemic restrictions and current financing conditions.
Futureal Investment Partners is a brand new entity on the CEE investment stage. Could you please explain, why Futureal Group, a wide-know developer, has decided to enter the investment market?
The launch of Futureal Investment Partners is part of our European expansion strategy at Futureal Group and our desire to broaden the scope of our work from pure development to investment management. Having already entered several western European markets over the past several years, including the UK and Germany, we're looking to build on this growth by partnering with prominent institutional and high-net-worth individuals to build a portfolio of assets in the office, logistics and retail sectors.
We have much of the required sectoral expertise and experience in-house already: light industrial and logistics in our HelloParks division, residential and PRS through our Cordia International business and financing expertise through Finext Capital.
It is well known that there is huge interest from international investors of all types to invest in value-add and higher-yielding real estate. Our advantage is that we have significant experience of investing across Europe – both in Western and Central Europe. That is not the case for many of the existing investment managers in the market.
Your first acquisitions in Poland - Manhattan retail centre in Gdańsk, Galeria Bemowo in Warsaw and Wratislavia Towers in Wrocław have good locations but are clearly in need of some serious refurbishment. I understand that the redevelopment of value-add and opportunistic properties will be your main line of strategy?
Since the financial crisis in 2008, international investors have increasingly sought income and capital returns from alternative asset types, of which real estate has become a significant focus for them. As investment volumes have increased and yields have reduced, investors have become more willing to move up the risk curve in order to achieve required returns.
This is why we're looking to generate higher returns at the value-add and opportunistic end of the risk spectrum. While we are broadly targeting assets in the office, logistics and retail sectors, we are most concerned with the investment potential of individual assets and how they are positioned relative to their regional markets. Whether that is through the redevelopment of the entire asset or adding value through targeted capital expenditure will depend on the characteristics of each asset.
Our most recent acquisitions of two shopping centres and an office building in Poland all provide significant opportunities for us to add value through the asset management process because of a combination of factors and their strong locations.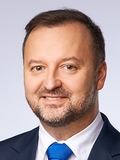 Karol Pilniewicz
Chief Investment Officer
Futureal Investment Partners
Karol Pilniewicz currently holds the position of Chief Investment Officer at Futureal Investment Partners, Hungary-based Futureal Group's real estate investment and asset management business. He was formerly head of the CEE region for Cromwell Property Group. Before Cromwell, Karol worked at GE Capital Real Estate, Aareal Bank and ING Real Estate Investment Management.
More »
The retail sector was severely affected by the pandemic restrictions. What is your opinion on their performance almost two years after the outbreak?
The pandemic accentuated the prevailing downward trend across retail assets and in particular shopping centres over the past two years. As we look to life beyond the pandemic and start to compare the future potential of retail assets relative to their current value, we're seeing some really attractive opportunities. It's important for international investors to realise that the headline issues that have impacted the retail sector over the past decade have not been uniform across regions or indeed different retail assets. For example, e-commerce penetration in Poland is at a much lower level than in the UK. This dislocation in pricing can be very attractive, providing you target the right assets. That's where the experience of the sector and having boots on the ground becomes vital.
What will be the investment hit in 2022 in CEE and why still warehouses?
We expect logistics to be still at the top, and CEE with low labour costs and improving road infrastructure is a key location for logistics developments in Europe. Last-mile logistics is expected to grow in the short term, replacing hypermarkets in the city area.
Aside from warehouse properties, last year in Poland we were observing the unprecedented activity of PRS investors. How would you explain that phenomenon?
Home ownership has been the norm in Poland up until recently but the rise in property prices is now forcing many younger people to go into rented property. As demand has grown, it is now outstripping supply, which is creating favourable conditions for developers and PRS specialists to enter the market. It is going to be a huge sector in the future and there are currently few issues with financing, with many willing lenders also entering the market. Futureal Group has significant experience of PRS and BTR across Europe.
What is your opinion on the current financing conditions – still affected by the pandemic or "back to business"?
Lenders are active and willing to work with good quality investors. Lenders offer different terms, depending on the product. Well-located, well-specified and long-term lease logistics assets are desired by lenders and the conditions for financing are extremely good now. At the other end of the market are retail products. Most of the banks have changed their strategy over the last few years and do not want to finance this product in the short term.
What are Futureal Investment Partners' investment plans for the next 12 months? Are you focused solely on Poland or you also look for opportunities in the other CEE countries?
With our first three acquisitions under our belt, we're working hard to expand our portfolio across Central and Western Europe, as well as continuing to establish relationships and co-investment opportunities with international investors. It's going to be an exciting 12 months. Combined with the current macroeconomic situation, we believe that 2022 might be a year of opportunities for well-established and quick-moving investment managers.