Marcin Michalec, CEO of OKAM Capital talked to Property Forum about the current situation in the residential market in Poland, plans of a large mixed-use investment in Warsaw and shared his forecasts for the PRS sector.
The purchase of over 60 hectares in the Żerań area by OKAM last year was one of the largest land transactions in recent years, not only in Warsaw, but also in the whole country. Do you already know how you intend to develop this land?
In fact, OKAM's acquisition of 62 hectares in Żerań is a rarity on a large scale and, at the same time, it offers enormous possibilities for development. The plot is extremely extensive and very varied. The complex in Żerań is the only location in Warsaw with its own railway siding. The site is well connected by car and public transport to the centre of the capital, as well as being close to the S8 expressway. There are bus and tram stops as well as cycle paths in the vicinity. Ultimately, in this area, we plan to realize a multidirectional project, an exceptional place to live. However, we are aware that this project must be spread over many years, taking into account the huge area of the plot and numerous formalities related to the planning and implementation of the project itself. At the moment, we offer companies or organisations an attractive, flexible offer to lease warehouse or office space.
Do you plan other components in addition to the residential function there: retail space, office space, etc.?
We are talking about an area of more than 60 hectares, a really huge space to develop. The project we would like to implement is extremely complex. We are consulting with all the parties involved. So there will certainly be a variety of living and housing spaces, we want something unique to be created here. We specialize in revitalizing post-industrial areas in Warsaw and Łódź, and we certainly want to preserve some of the historical buildings. This place has its tradition and history, and we want to give it a new face, not forgetting about this precious past. We are currently offering to lease the existing space. In fact, all the time we have further enquiries and more contracts are being signed. Interested companies or organizations can rent attractive space in Żerań for their activities and business goals.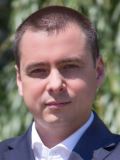 Marcin Michalec
CEO
OKAM Capital
Marcin Michalec graduated from Warsaw University and Warsaw University of Technology. A licensed real estate agent, he has been tied up in the real estate market for over 15 years. He began his professional career with Knight Frank. He then worked as a Sales and Marketing Director in the development companies Restaura and ICON Real Estate, directly involved in the sale of over 1,000 apartments in several Polish cities. From April 2017 to August 2021 he worked at OKAM as the Sales and Marketing Director and from September 2021 he was appointed CEO of OKAM Capital.
More »
Could your plans for this location be affected by the slowdown in the residential market, the beginnings of which we are now witnessing?
The more difficult economic and political situation and the possible slowdown in development not only in Poland but almost all over the world is not a serious threat to us because of the scale and diversity of the project. Even assuming a massive crisis in the long term, we approach the forecasts with calmness, as we are flexible and prepared for the possible need to modify elements of our assumptions, possible shifts in time or changes in the schedule itself. The multidirectionality of the planned investment gives us the possibility to postpone certain activities in favour of others. It should also be borne in mind that this will be a project for years, so it is worth looking at it from a longer perspective.
Decreasing consumer demand, rapidly rising prices of construction materials, lack of manpower - What is the biggest challenge for developer companies at the moment?
As a company operating in the real estate industry, implementing residential or commercial investments on a continuous basis and on a large scale, we are particularly exposed to all of these dangers. While we have not yet noticed any problems with access to employees, as this does not directly affect us, or a drop in consumer demand, we are slightly concerned about the shrinking resources of raw materials and rising prices of construction materials. We expect growing difficulties in their availability, and the forecasts for the coming months only confirm this. Currently, even rebar, which is indispensable on construction sites, is difficult to obtain on the market. We must bear in mind that limited availability or an increase in the prices of materials will translate directly into an increase in the prices of investment execution, and thus may also result in an increase in the price per square metre for the end customer.
In view of the decreasing availability of mortgage loans and the growing demand for rentals - also from refugees from Ukraine - is OKAM considering entering the private rental segment (PRS)?
Certainly, our domestic PRS market is perceived as attractive by investors, as competition is still lower than in more developed foreign markets, such as Western Europe. One should take into account proportionally lower costs with a higher level of return of funds invested in real estate. For the time being, the PRS concentrates only on several thousand flats in Poland, but its growth in the coming months will certainly be visible. Growing demand for rentals in the perspective of at least the next few months seems almost certain, at least until the geopolitical situation stabilises, inflation stops and the general economic calm. We analyse the situation on an ongoing basis, we observe the market and we do not rule out entering this segment.
From your point of view, how do banks currently approach the financing of new residential investments?
The general macroeconomic situation, also in Poland, makes banks approach the issue of financing new residential investments with caution. In this case, as with mortgage lending, they are more sceptical and also watch the general market landscape closely. A sharp rise in interest rates in the short term and higher costs of raising capital may result in a decreasing number of units being put on offer, and prices may also rise.
Which locations - other than Warsaw, of course - will remain attractive spots on the residential map of Poland?
It is obvious that Warsaw, as the capital and a very developed city in terms of infrastructure, offers the most opportunities. This is where people from all over Poland continue to come, this is where they want to establish themselves and this is where they want to buy their first dream apartment. For many young people, Warsaw is a synonym for unlimited possibilities and owning a property in this city is a sign of success and prestige. However, we as OKAM are not limited to the capital city with our projects. The fact is that most of our investments are built here and the sale of flats in Warsaw is also the biggest source of our income. We are currently developing projects here, such as Bohema, Central House, and Cityflow. On the other hand, we have always been interested in locations with rich historical fabric and great possibilities for revitalisation. That is why we are so eager to invest in Łódź. Another city of interest to us is Katowice. Not only because of the historic townhouses in the centre, which are among our assets. In Katowice, we saw potential in Dolina Trzech Stawów, for example - in a beautifully located area and not far from the Market Square. We have just completed two buildings in phase one of the INSPIRE project and we are continuing this project. And this is certainly not our last word. And I am not thinking only about Katowice.