COVID-19 has completely redefined what office means and companies have a lot of thinking to do when it comes to finding the right location for their workforce to work from. Companies are increasingly turning towards flex offices and according to Business Wire, the global flex office space market is expected to grow from $7.97 billion in 2020 to $8.14 billion in 2021 at an annual growth rate of 2.1% before reaching $13.03 billion by 2025.
In such an uncertain macroeconomic environment, committing to leasing a certain amount of office space for a certain amount of time is a much less attractive choice as it was before the pandemic. The speed and extent of the post-COVID economic recovery are difficult to predict and so is how the headcount of any company might change in the upcoming years and months.
Even if a business is more stable than others, the preferences of office workers have permanently changed during the lockdowns of the past period. Working from a head office every single day is not an attractive choice anymore and neither is working from every single day. Most employees prefer to have several options available to them not only in terms of office or home but also in terms of where they work from within the city.
All these trends combined are driving companies to make more flexible location decisions. Unlike committing to a long-term lease, taking up space in one or multiple flex office locations provides companies with the opportunity to implement changes easily and they also make it possible for the employee to choose where they want to work from on a given day.
Flex offices leases are fast - tenants can move in the next day and they don't need to wait for a fit-out to be completed as flex offices come fully furnished. Unlike in the case of traditional offices, the cost of renting flexible workspaces usually covers the use of related services and equipment such as office chairs and desks, reception services, internet connection, access to a printer, different software and others. All the utility and maintenance costs are usually also covered by the operator of the space.
All of this means that companies don't have to spend on CAPEX which is especially valuable in such an uncertain market environment. They don't need to face any hidden costs and they can flexibly increase, decrease or even terminate their lease should circumstances change.
"I firmly believe that the office lease as such will be replaced by service and membership contracts and the management of workstations and additional services will be fully handled by dedicated applications. Thanks to the digital solutions already available, users have easy access to all office services, such as booking a workspace, conference room or additional services, including IT support," says Hubert Abt, CEO & Founder of New Work & workcloud24.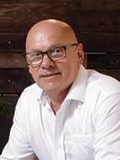 Hubert Abt
CEO & Founder
New Work & workcloud24
Hubert Abt has been working in the real estate industry for over 30 years. He worked as a developer and later in the land banking sector and provided equity and Mezzanine capital for various real estate projects. In 2013 he founded NEW WORK Offices in Budapest, which provides various flexible office solutions. Since then he developed the business model further and grew the company to today 16 locations in 3 countries with approx. 43.000 sqm which brings NEW WORK Offices in the top 3 list in CEE. Hubert now leads the company as CEO while focusing on investor relations and developing new products like NEW WORK´s Franchise Package or The Digital Office Pass of workcloud24 where he acts as Founder and CEO as well.
More »