S IMMO has recently made major commitments towards building a fully ESG-compliant office portfolio in Budapest with a large acquisition and an ambitious green energy initiative. Géza Barabas, Country Manager of S IMMO Hungary talked to Property Forum about upcoming investment plans and the company's ESG strategy for the Hungarian market.
You've recently completed the acquisition of the BudaPart Gate building. What can you share with us about the dealmaking process? Is this transaction a testament to S IMMO's continued belief in prime offices as an investment product?
We definitely believe in the office asset class. With the purchase of BudaPart Gate, we have integrated a high-quality and, above all, fully ESG-compliant office building into our portfolio, which also impresses with its good location and a premium tenant mix. We are currently focusing our attention increasingly on this type of property in particular. We have been in the Hungarian real estate market for 20 years now and we always believed in the Budapest office market. BudaPart Gate has provided us with a very good investment opportunity and we will continue to review the market for interesting purchase options.
Earlier last year, on account of S IMMO's 20-year milestone in Hungary, you've announced plans to expand your local office portfolio. What's the next step in the execution of this strategy?
As just mentioned, we are constantly reviewing the market for further investment opportunities. In particular, those that meet criteria such as those mentioned first - high quality of the property, ESG compliance, very good location, high occupancy rate, etc.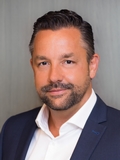 Géza Barabás
Country Manager
S IMMO Hungary
Géza Barabás has been in charge of S IMMO's operations in Hungary since 2018. Previously he worked as the Managing Director of PORR Group's Hungarian subsidiary and Head of Property Management & Finance at First Facility. He holds a Master's degree in Economics from Corvinus University of Budapest.
More »
Besides being an investor, you're also active as a developer in Budapest. What is the planned timeline of the Essence Garden office project on the Váci Road office corridor?
Essence Garden is, at the moment, in the last planning and permission phase. We already demolished the old structure and now we are waiting for the building permit to be able to start the next steps of the project. We are calculating 2-2.5 years to finalize this project.
Some experts say that the Váci Road submarket is getting saturated. Do you share those concerns?
The Váci Road is one of the best office locations in Budapest with high-value and quality office buildings and several services around them, with great accessibility through public transport, so it is not a surprise that more and more companies decide to move their offices here. I think Váci Road will become even stronger within the Budapest office market in the upcoming 10 years, if we consider how many new office buildings were planned or are even already under construction here.
What are your 12-month expectations on the Budapest office market in terms of supply, demand and rents?
The trend we saw in 2021 will continue over the next 12 months, with room for cautious investments, rents expected to be stable and construction costs rising. Although there is a massive demand on the market, decision-making processes take longer and the size of space in demand is slightly down.
What are you doing differently, compared to the pre-pandemic period, to attract and retain office tenants?
The market has changed as a result of the pandemic in that office properties have become more management-intensive and will continue to be so, partly due to shorter contract terms. The big keyword is flexibility - in all directions.
Just recently, S IMMO Hungary decided to install solar panels on top of the Blue Cube office building. What's your ESG strategy for the Hungarian market?
The first step was to integrate sustainable assets like BudaPart Gate into our portfolio, as well as to look at running our buildings on renewable green energy. We are aiming for green certification for our entire Hungarian portfolio. We are well on our way, as Pódium recently received the BREEAM In-Use Asset Performance certificated at the "Very Good" level and our Blue Cube and River Estates office buildings are already BREEAM certified, as is BudaPart Gate, which has a LEED Gold certification. Our long-term goal is to make all our office buildings as sustainable as possible.
ESG-compliance has become a vital aspect for investors. How do you see the near future of the Hungarian commercial property market in this respect?
ESG compliance will be a major topic over the coming years. It will be even more important – already in the near future, say within 1-3 years – to consider and to make investments, which can ensure sustainability and decrease the ecological footprint of the buildings and companies. Slowly but surely all players on the Hungarian commercial property market will be forced to "level up" their buildings to match the green regulations of the EU. But not all of the buildings can be turned into modern green and sustainable real estate and at this point the market will split the assets into two large groups: one group will be the modern, mainly commercial buildings which will match, or nearly match, the green regulations' criteria of the future and will pay less environmental taxes and in the other group we will find the older buildings which would require a substantial financial and material investment to meet sustainability standards if at all possible and as a result will pay higher taxes. That will have an effect on the value of the assets and also on their marketability.