Development margins in Poland have been under pressure in recent years which is taking effect in a smaller number of projects under construction with planned occupancy dates in 2022 and 2023. Property Forum talked to Mariusz Frąckiewicz, Country Director at Avestus Real Estate Poland about the post-Covid office market in Poland, the impact of inflation and surging land prices.
How is the commercialization of the Infinity office complex in Wrocław progressing?
We are extremely happy with the progress on the leasing, especially through the Covid-19 pandemic. The Avestus Real Estate leasing team are working closely with JLL on the commercialization of Infinity. To date, we have signed several retail tenants, who are all household names, and we are in detailed negotiations with a number of office tenants. We hope to be able to give you more still this quarter.
What changes in tenant preferences have been introduced by pandemic restrictions in the Polish regional office markets?
The focus has been on health matters so, like everywhere else, home working and hybrid models were prevalent and continue to be the dominating initiative in our current and prospective clients. In 2021, we observed increased interest in the prolongation of lease contracts in existing locations as opposed to relocations to new buildings. In recent months, however, the tenants' focus has increasingly been on new lifestyle and ESG-compliant projects that address the growing awareness of environmental and social responsibility. Our Infinity office building, due to be completed in Q2 2023, will have a unique mix of lifestyle options for our tenants as well as delivering BREEAM Excellent rating. Furthermore, we have seen an intensified focus on to quality on the part of prospective tenants in response to the pandemic. They are focussing on buildings that will attract employees to come back to the office due to their modern amenities, quality finishes and central, rather than outlying, locations.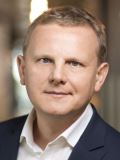 Mariusz Frąckiewicz
Country Director
Avestus Real Estate Poland
Mariusz Frąckiewicz has worked for Avestus Real Estate since 2006. Initially, he was responsible for coordinating the financing of development projects of the company, and since 2011 also for Avestus operating activity in Poland. Currently, his responsibilities include the development of real estate projects, as well as coordinating the activities of property management implemented on behalf of external property owners. Previously associated with ING Group, where he was responsible for corporate banking at ING Bank N.V., eventually, in ING Lease Poland, where he worked as Deputy Director, Structured Leasing Services, CEE. Mariusz Frąckiewicz has a degree in Finance & Banking from the University of Łódź.
More »
Do you think that demand for office space may shrink in the long term perspective?
I think it will be the opposite. Demand for office space has generally been driven by growth in the economy. Post-pandemic GDP numbers for Poland give rise to great optimism that businesses will grow in the foreseeable future and so will the demand for labour. This trend has currently been observed in Warsaw where demand for office space is recovering rapidly and it will also, as always, benefit the regional Polish markets. Hybrid work, which will likely stay with us in various forms and shapes, will not adversely affect this trend fuelled by increased productivity and specialisation. More high margin jobs will come to Poland and office space will be one of the many beneficiaries of these processes.
How are the price rises of labour and general contracting affecting office development in Poland?
Development is all about managing risks. We at Avestus, together with our investors Alchemy Properties and Avestus Capital Partners, have consistently been developing our projects in the formula of general contracting which, to a certain degree, limits our exposure to adverse changes in prices of labour and supplies. Nonetheless, development margins in the industry have been under pressure in recent years which will take effect in a smaller number of projects under construction with planned occupancy dates in 2022 and 2023. As a result, lease rents have already started to increase in Warsaw and they will likely go up in the regional markets as well in 2022/2023 due to a relatively short supply of office space.
Can we expect the stabilization of prices of plots for new developments in 2022?
It is rather unlikely due to high inflation and the low availability of suitably located plots. Office land has had new competition in the last 12 months from PRS developers, whose residual valuations are often higher than for office use.
Do you expect any changes in financing conditions in the nearest future?
Most banks never stopped financing office development during the pandemic. The conditions in the term sheets reflected the higher perceived risk while they still made our models work. Banks have a very good understanding of the real estate market and, like us, they have observed increased tenant interest in recent months as well as more transactions in the capital market involving offices. This will inevitably positively change the risk perception and the financing terms as a result.
Any new investment plans in the foreseeable future that you can reveal?
We always prefer to talk about closed deals as opposed to our future plans. We are currently involved in a few processes that involve buying new development plots in the regional markets. We will advise the wider audience in due course.