The first quarter of the year 2020, mostly starting with mid-February, was marked by ominous economic forecasts. Thus, some decline in construction activity was to be expected, and indeed newly started construction projects dropped to just over €1.3 billion in Q1 2020. This amounts to a 14% decrease compared to the equivalent period of 2019, according to the latest edition of the EBI Construction Activity Report for Romania.
At the same time, the amount spent on construction increased by 25%. Coupled with the record amount of completed construction works (nearly double that of the first quarter in each of the previous 5 years), leads us to the conclusion that investment was increased in order to rush and complete the (at the time) ongoing projects before the anticipated negative economic impact of COVID-19 took place.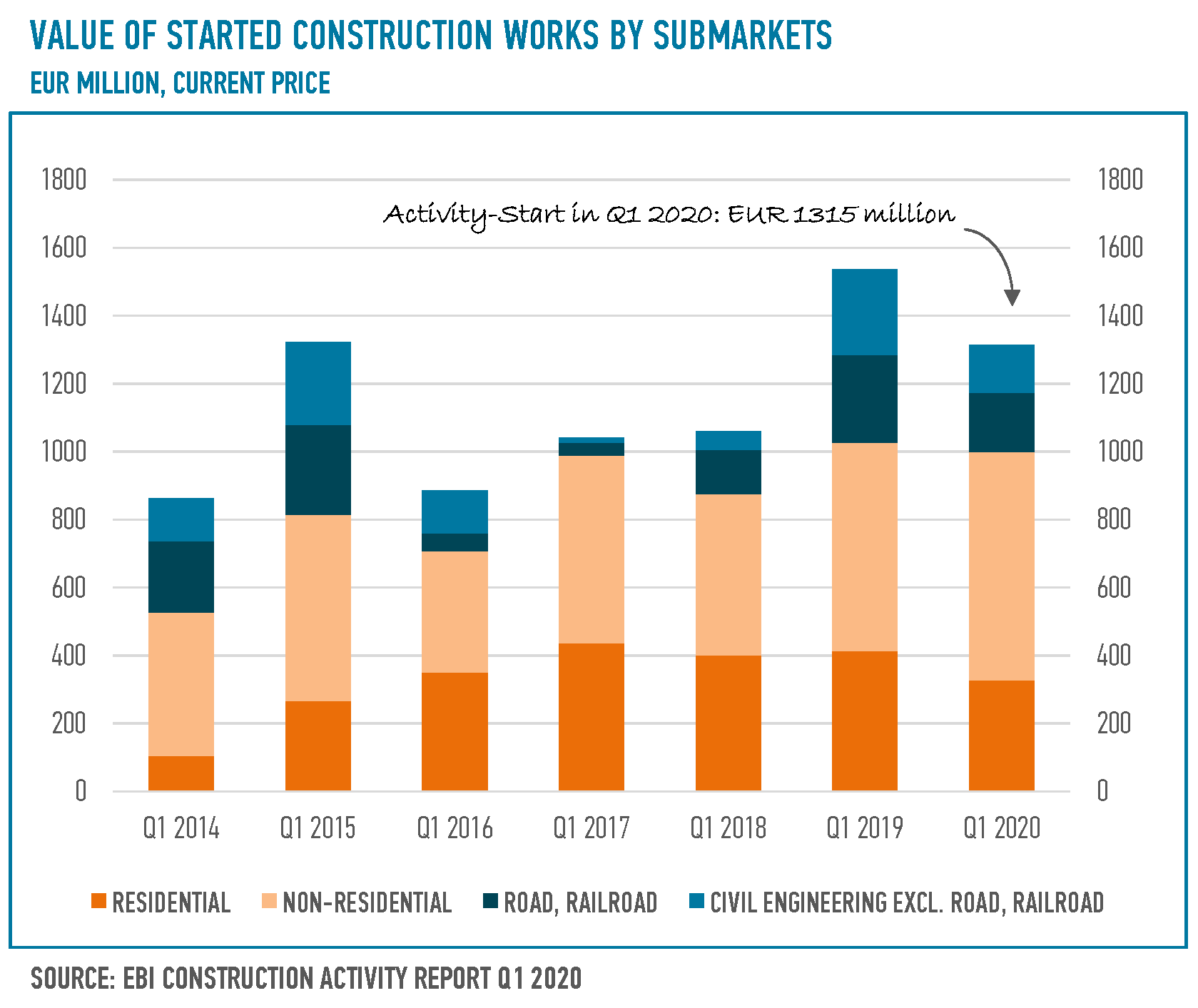 COVID-19 changes in reporting frequency
In light of the COVID-19 pandemic and the accompanying economic impact, the data visualization for EBI Construction Activity Report is currently updated on a monthly basis, rather than quarterly.
Renovation activity increase in building construction
Building constructions started for the first quarter of 2020 dropped by 3% over the same period of 2019. However, the amount of new building construction for Q1 2020 is actually higher than in the first quarters of 2014-2018, and thus this small drop is more due to the good performance in 2019 than a clear sign of decline for 2020.
Looking at renovation figures, however, we can notice a somewhat new trend: that of increased renovation activity. While new building construction can, and in some cases was, pushed back due to uncertainty regarding the economic conditions, renovation works are less prone to this effect since they are more urgent in nature. Furthermore, as government measures started to be implemented in March, individuals and businesses alike needed to make adjustments to their living and working conditions: spaces were converted to quarantine centres, offices and industry alike had to adapt to new conditions and started to ensure layouts that allow more social distancing, hospital wings were relocated and so on.
Civil engineering output exceeds expectations, but low activity starts caution about future
The first quarter of 2020 saw an estimated expenditure of €804 million on civil engineering projects, exceeding any single quarter since data aggregation started in 2014. The high level of output achieved came with the completion of many ongoing works and comes with a significant caveat: the quarter was also markedly worse than the previous year in terms of activity starts, with a 38% drop over Q1 2019. The most notable drops in new projects were in the segments of road and public utilities. Both reportedly had quite an increase in output over the same period, and thus the focus here seemed to be completion, rather than starting new projects.
Regional disparities in new construction activity
Despite the national-level decline in new activity, a large level of regional disparity can be noticed. The Center, South and West regions are showing an actual increase in construction starts compared to Q1 2019 in several segments, moving against the overall trend of the country. This could be an indicator of the higher level of resilience of local construction markets and higher investor confidence in local economies. These regions might also be tardier in their response to the anticipated crisis, but it's something to keep an eye on in the future and more data will show how resilient they are.
What is the EBI Construction Activity Report?
The EBI Construction Activity Report is a quarterly publication that relies on the project information database of iBuild and is prepared by Buildecon and Eltinga. It comprises an analysis of projects based upon several object types: multi-unit residential construction, non-residential (further split into 9 segments) and civil engineering (split into 8 segments). The report offers information about the number and value of projects started or completed and an estimate of the total amount spent on each segment in that quarter.