Przemysław Orchowicz, Country Manager, Heimstaden Poland has talked to Property Forum about the current forecasts for the PRS market, overregulation risk and investment plans.
Congratulations on your recent launch of the second stage of the 'Bokserska' project with 284 units in Warsaw. What is your current commercialization level in this project?
Bokserska is Heimstaden's flagship investment in the Polish market. It is characterized by green public spaces and walking areas, convenient access to public transport, as well as proximity to numerous office, commercial, and educational facilities. The buildings were designed by Kuryłowicz & Associates – one of the best-recognized architectural studios in Poland.
We introduced the first stage of the investment, with 146 housing units, in the third quarter of 2022. All these apartments are fully rented. The second stage features 284 apartments which are being successively added to our offer based on the fit-out schedule. We see a more than positive market response and high interest from future tenants. We cannot wait to welcome the first tenants to the fully equipped apartments in March.
Who are your tenants in Poland? Like other operators, have you recently experienced increased interest from migrants from Ukraine as well as families who needed to move the rental market?
In our sector, types of tenants may be defined by the types of apartments we can offer in given investments. At Heimstaden, we aim at offering diversified units, starting from studio apartments, through medium size apartments, up to large family apartments. This means that we can also welcome to our friendly homes various tenants – not only young professionals and couples but also bigger families with children and seniors.
Ukrainian and Belarussian families are among our tenants, and we are happy to offer them safe and stable homes. As for Polish families, many of them have previous experience in renting houses from individual investors. As we ask for their feedback on a regular basis, we know they appreciate the difference in the quality of housing and services which is offered by PRS.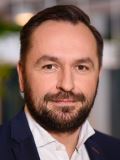 Przemysław Orchowicz
Country Manager
Heimstaden Poland
He has almost 20 years of experience in operational management. Prior to joining Heimstaden, he was involved in the tourism industry, working for the Accor group, where he held various positions including general manager of the Novotel Warszawa Centrum hotel, director of the Wrocław region and director of hotel sales in Poland.
More »
The energy crisis, caused by the war in Ukraine, will most likely stay with us for longer. How does this affect the profitability of your business? Can your tenants expect rent increases?
Indeed, people and companies in Poland and in other countries where we operate are now experiencing a significant increase in costs which affects most products and services. To be able to maintain a long-term, high-quality, and friendly delivery of service to our customers, as well as maintenance of our properties, we need to make sure rents on homes are adjusted to the current market situation. However, we are very mindful of the financial challenges facing many individuals. We take a responsible approach to any rental increases, ensuring affordability for our customers remains a central consideration and balancing rent increases with retention.
Having said that, the residential rental market has during different global challenges proven to be resilient and the need for housing in all our markets is stable on a high level. With a record low vacancy, we are confident that we will continue to deliver strong results in Poland and in other markets.
Companies investing in the PRS segment have adopted a wait-and-see attitude in recent months. What do you think would have to happen for them to start investing again?
Each company in the residential rental market has their own investment strategy. Heimstaden is an evergreen investor, which means we have a long-term perspective when investing in residential real estate. In the last years, we have grown to become the second largest European company in this sector with investments in ten countries. We have experienced a decade of strong but sustainable growth in standing assets and forward purchases of new development.
After having an outspoken strategy to grow over the last years, we now have a strategy where we will extract maximum values and synergies from the portfolio as well as continue to develop the properties and deliver excellent customer service. In the current market situation, our highest priority is to run the business in a way where we will stand out as one of the strongest real estate companies among our peers and will make sure to run with a safe cushion within our financial policy and support our rating.
Perhaps what stops you from investing in Poland is the government's plan to ban package purchases of residential premises?
We have heard of these plans, but no details have been disclosed in recent months. We understand there will be regulatory pressure to the extent that affordability becomes more stressed and creates social unrest. On the other hand, in most markets, there is an increasing focus on solving the supply shortage rather than regulating existing stock and further investments. And that is, of course, the balance that politicians need to see. Over-regulation will increase the risk premium for residential investors, create uncertainty, and reduce the supply coming to the market.
What are Heimstaden's plans in Poland in the upcoming 12 months?
By the end of 2023, we will be renting out close to 1,000 homes in Poland. In Warsaw, apart from the two already launched projects Bokserska and Grzybowska, we should have finalized two more projects: Studio Okęcie (94 homes) and Mińska (170 homes). We are also looking forward to entering Kraków and will during the year offer 117 Friendly Homes to the rental market in the project Orlińskiego.