CTP reported a 92% rise in profit for the first nine months of 2021 to €317.8 million, compared with €165.8 million for the same period of 2020. The company's strong performance was driven by solid ongoing leasing take up, rental growth and record development valuations from accelerating yield compression in CTP's core CEE portfolio. The robust financial results are manifested in adjusted EPRA earnings per share year-to-date increasing to €0.38 in 2021 as compared with €0.29 for the same period in 2020. The company has also invested significantly this year in boosting its talent base, attracting new people into senior management roles in country teams and across group functions.
CTP's growth is gathering speed
GLA expanded to 7.1 million sqm in Q3, 2021 from 6.6 million sqm at H1 2021, leaving the portfolio on track to grow beyond 7.7 million sqm this year, 200,000 sqm more than anticipated
Landbank grew by 1.6 million sqm to 16.3 million sqm at the end of Q3 2021
Annualised rental income rose 7.1% to €407 million in Q3, 2021 from €380 million at the end of Q2 2021
GLA market share increased to 25.4% in Q3, 2021 in core markets (30 June 2021: 24.9%)
"CTP's high-velocity operational performance continued apace during the third quarter, further propelled by strengthening logistics market fundamentals. This is clearly visible in the strong Q3 financial results. Since listing on Amsterdam Euronext in March, we are positioned to materially exceed one of our key IPO business plan targets and now expect to hit 10 million sqm GLA by next year – 12 months earlier than originally planned. We invested in recruiting new people across the organisation, thereby improving the strength and depth of our team. This complements the expanded land bank, ramped-up development programme and bigger investment portfolio, where we have strategically acquired 408,000 sqm of logistics properties across five countries this year. Yield-on-cost remained above our 10% target at 11.1%, which none of our major competitors come close to matching. CTP is powering ahead, and I believe the best is yet to come," Remon Vos, CEO said.
Remon Vos
CEO
CTP
Born in the Netherlands in 1970, Remon Vos founded CTP in 1998 with the goal to develop A-class industrial properties in the Czech Republic. Remon developed and grew the CTPark Network to become the largest integrated system of full-service business parks in CEE. At over 5 million sqm of lettable area, and sufficient land to grow to 8 million m2, the CTPark Network offers 5 unique property types that can accommodate wide variety businesses from 450 sqm incubators to 50,000 sqm built-to-suit manufacturing facilities or 100,000 sqm distribution centres. CTP is a long-term investor and partner to its clients, with an innovative and entrepreneurial approach. This focus has resulted in 70% of all new business coming from existing clients. CTP has also developed unique, high-quality office and housing projects, such as the award-winning Spielberk, and the unique student housing concept Domeq in Brno. Remon continues to lead the company at full-speed, with big plans for the future.
More »
"The highlight for 2022 for CTP is clearly going be the integration of Deutsche Industrie REIT-AG into our portfolio and operations after the €800 million takeover announced in October. CTP's entry into the German market is being constructed on a portfolio that is ripe with value-add asset management and development potential. It brings strategic value and is being acquired at a price much lower than replacement cost, which will give us instant scale in Germany and provide a solid bridgehead between our core CEE markets and new opportunities across Western Europe," Richard Wilkinson, CFO added.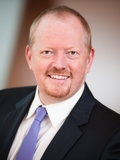 Richard Wilkinson
Group CFO
CTP
Richard started his role as Group CFO for CTP in July 2018, which includes looking after the refinancing of CTP's portfolio of over 4,5 million sqm of premium industrial property. Prior to joining CTP, Richard ran the CRE business of Erste Group across CEE for 14 years, turning it into one of the leading CRE banking franchises. He has a Law degree from the London School of Economics.
More »
Results in detail
The company's market-leading portfolio increased to 7.1 million sqm GLA (30 June 2021: 6.6 million sqm) in Q3 as a result of development completions and strategic acquisitions. This expansion, together with continuing lease activity, resulted in the annualised rental income rising to €407 million (H1 2021: €380 million). Occupancy remained high and stable at 95% during Q3 2021, the same level as during the second quarter of this year. The portfolio continues to maintain an attractive income duration of 6.44 years (Q2 2021: 6.46 years) and rent collection remained high at 98%. CTP's market share in its core CEE markets was 25.4% at the end of Q3 as compared to 24.9% in H1, measured by its share of total market GLA in the Czech Republic, Romania, Hungary, and Slovakia.
Active management undertaken in CTP's CEE core markets achieved 383,000 sqm of space let in the period, including 5,700 sqm to Lidl, 24,000 sqm to DHL (for Adidas), and the delivery of 75,000 sqm to Maersk, operating the facilities for a leading Swedish home furnishing retailer. The company's strong and long-standing occupier relationships underpin retention and repeat business with leasing activity.
Absolute rental growth, especially in the Czech Republic, is now starting to catch up with Western European markets and higher rents are being achieved on new leases and lease renewals in response to growing demand and constrained supply. Recent CTP lease agreements in the Czech Republic show rents up to 10% higher than recorded at the beginning of 2021.
Delivering de-risked profitable development and expanding land bank to secure growth
CTP completed 161,000 sqm of sustainable developments in Q3, increasing year-to-date completions to 366,000 sqm, of which more than 95% are let. The balance of the programme, representing some 527,000 sqm of GLA, was 79% pre-let at the end of Q3 (H1 2021: 71%). The company is on target to complete 893,000 sqm of developments during 2021 and expects to build more than one million sqm GLA in 2022. Yield-on-cost was strong at 11.1% (from 11.8% in the first half of 2021), despite continued cost inflation and shortages of construction materials.
In CTP's expansion markets a total of 125.000 sqm of developments are underway, in Poland and Serbia. In Austria, it is seeking building permits for three sites totalling 360,000 sqm outside Vienna.
At 30 September 2021, CTP had assembled a 16.3 million sqm land bank across all its markets, which offers development potential to more than double the current GLA of seven million sqm, leaving the company well-positioned to continue to meet ongoing occupier demand. This demand is underpinned by structural tailwinds, such as the growth of e-commerce, digitalisation and near- and on-shoring. The company invested €108 million in its land bank, focused particularly on expansion markets. Notable acquisitions included 360,000 sqm of land adjacent to Schiphol Airport in the Netherlands; 99,000 sqm of land in Austria, two sites in Warsaw totalling 380.000 sqm and one plot of 180.000 sqm close to Poland's western border with Germany.
Selectively acquiring strategically important accretive income-producing assets
CTP invests in assets where it sees a strategic imperative to do so. This will either be in response to a customer requirement, adjacent to existing CTP properties or to provide the company with a foothold into a new country. CTP purchased nine investments for a total of €304 million across five countries in the first nine months of 2021. These acquisitions have added scale to the business in Romania, Hungary, and the Netherlands. The strength of the company's reputation and network-enabled it to make most of these acquisitions off-market. The assets are accretive to the company's existing investment property portfolio with an average yield of 7.7%, compared to CTP's portfolio yield of 6.9% (at 31 December 2020).
Strengthened balance sheet to support growth ambitions
In the third Quarter, CTP further improved its capital management and liquidity position by issuing a dual-tranche green bond raising €1.0 billion. Aimed at pre-funding CTP's 2022 development pipeline, the bonds were circa three times over-subscribed with interest from around the world from ESG-focused investors. One of the €500 million tranches was placed with a 5-year maturity, with the other carrying a 10-year term. Related to this, CTP successfully tendered €150 million of its debut October 2025 bond with a view to lowering its cost of debt whilst maintaining adequate liquidity by limiting the tender to reach a €500 million benchmark size for the balance outstanding.
Following CTP's completed capital management and liquidity initiatives in Q3 2021:
Cost-of-debt stands at 1.19%, the lowest amongst its listed peers, evidencing large support from institutional bond investors for CTP's credit risk profile and business model.
The average maturity of debt extended to 6.3 years (30 June 202: 5.3 years).
Cash and available liquidity stand at €1.8 billion, including an undrawn revolving credit facility of €400 million.
Positive outlook remains
Market conditions remain favourable, with rental growth and yield compression accelerating in all of CTP's core CEE markets, which will impact positively on the portfolio's full year valuation, the first to take place since listing in March this year. Company-specific adjusted EPRA EPS for the full year 2021 is reaffirmed to be circa €0.50. The company's portfolio of prime, highly sustainable assets is set to continue to benefit from the fundamental shifts occurring within the logistics and distribution real estate markets as well as the company's approach to portfolio optimisation. It has a substantial development pipeline and land bank. All of which, when combined with the company's high-quality loyal customer base and its expanding talented and dedicated team, leave CTP well-positioned to execute on its clearly defined strategy and to successfully and deliver attractive, sustainable returns for all stakeholders.