In 2018, CTP achieved gross rental income of nearly €274 million, a 16% year-on-year increase. During the year CTP grew its CEE portfolio by over 13%, reaching the milestone of 5 million sqm under management. Total asset value increased year-on-year by over 10% to €4.8 billion. The company's LTV ratio decreased slightly to 48%.
During 2018, CTP expanded its portfolio by more than 500,000 sqm, 92% of which came from own development. Over 70% of growth results from current clients either expanding or developing new facilities at other locations within the CTPark Network, the company's industrial park system with over 90 locations across CEE. In 2018, CTP reports that 55% of its portfolio growth took place outside the Czech Republic, which remains its largest market. CTP entered Romania in 2014 and reports strong growth of its portfolio in the country, which reached the milestone of 1 million sqm under management in January 2019.
During the year, CTP grew its internal headcount by over 22% to 374 people employed throughout the region. Clients within the CTPark Network employee approximately 70,000 people across CEE.
Remon L. Vos, CEO states: "CTP is proud of our record performance in 2018, and we foresee continued growth in our core CEE markets in the coming years with logistics, e-commerce and high-tech manufacturing remaining as key drivers. We'd like to extend our appreciation to our clients for their long-term partnership and continued confidence in our services."
Remon Vos
CEO
CTP
Born in the Netherlands in 1970, Remon Vos founded CTP in 1998 with the goal to develop A-class industrial properties in the Czech Republic. Remon developed and grew the CTPark Network to become the largest integrated system of full-service business parks in CEE. At over 5 million sqm of lettable area, and sufficient land to grow to 8 million m2, the CTPark Network offers 5 unique property types that can accommodate wide variety businesses from 450 sqm incubators to 50,000 sqm built-to-suit manufacturing facilities or 100,000 sqm distribution centres. CTP is a long-term investor and partner to its clients, with an innovative and entrepreneurial approach. This focus has resulted in 70% of all new business coming from existing clients. CTP has also developed unique, high-quality office and housing projects, such as the award-winning Spielberk, and the unique student housing concept Domeq in Brno. Remon continues to lead the company at full-speed, with big plans for the future.
More »
Richard Wilkinson, Group CFO, comments: "The company continues to strengthen its position as the premier industrial real estate developer in CEE. Our continued improvement of our financial KPIs underpins our long-term growth."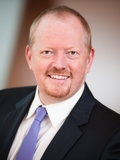 Richard Wilkinson
Group CFO
CTP
Richard started his role as Group CFO for CTP in July 2018, which includes looking after the refinancing of CTP's portfolio of over 4,5 million sqm of premium industrial property. Prior to joining CTP, Richard ran the CRE business of Erste Group across CEE for 14 years, turning it into one of the leading CRE banking franchises. He has a Law degree from the London School of Economics.
More »