CTP has announced its intention to launch an initial offering and to apply for admission to listing and trading of its shares on Euronext Amsterdam. The logistics investor and developer aims to raise between €800 million and €1 billion.
Following a strategic shift in the Groups' funding strategy, CTP entered the international bond markets in 2020. CTP successfully issued its debut green bond of €650 million in October 2020, followed by two additional green bonds at attractive terms taking the total issuances to more than €1.5 billion to date. Having successfully accessed the investment-grade debt markets, CTP is now planning to access the equity capital markets in order to fund its continued growth.
The reason for the contemplated offer is to enable CTP to accelerate its growth strategy by financing the Group's development projects and construction activities, selective property acquisitions and debt repayment. The offer will be made to institutional investors and is expected to comprise a primary offering of newly issued shares raising approximately between €800 million and €1 billion of gross proceeds and an over-allotment option of secondary shares. The offer is expected to take place in the coming weeks, subject to market conditions and other relevant considerations.
Remon Vos, Founder and CEO of CTP said: "When I founded CTP, I was excited about the entrepreneurial spirit and ambitious atmosphere in the CEE region. We started our first project just outside of Prague and are now, twenty-two years later, the largest logistics owner and developer in the CEE region. The region benefits greatly from favourable macro trends driving structural growth. The outlook for logistics property globally is highly attractive, with multiple positive drivers accelerated by COVID-19. The surge in e-commerce penetration is driving a long-term step-change in the demand for logistics services and space. We outgrew the market share in the region significantly and opened in new markets.
Throughout the years, our mission has remained to build, own and operate the most sustainable, high-quality network of logistics parks in Europe. Through our vertically integrated business model, not only have we been able to generate superior above 10% yield on development costs, but also we remain a long-term dedicated owner of our properties. Our assets are 100% BREEAM certified, solar-ready and we will be carbon-neutral in our operations by the end of this year. We have the ambition to positively impact the communities in which we operate, with numerous initiatives such as the launch of a zero-waste initiative and our reforesting. During the past year, we increased the speed of innovation and worked hard to keep the company moving forward quickly. With a significantly strengthened organization, we are well-positioned for further growth.
After 22-years of private ownership, we are now ready for the next phase in our development. We believe our combination of scale, experience and strong growth perspectives make CTP a compelling investment opportunity. We have a strong platform set for continued growth in Europe, and we are set to deliver continued sustainable growth, operating in the most attractive real estate sub-segment. By listing on Euronext Amsterdam, we can build on the strong momentum we generated to date as we continue to expand, offering us access to a wider range of capital-raising options."
Remon Vos
CEO
CTP
Born in the Netherlands in 1970, Remon Vos founded CTP in 1998 with the goal to develop A-class industrial properties in the Czech Republic. Remon developed and grew the CTPark Network to become the largest integrated system of full-service business parks in CEE. At over 5 million sqm of lettable area, and sufficient land to grow to 8 million m2, the CTPark Network offers 5 unique property types that can accommodate wide variety businesses from 450 sqm incubators to 50,000 sqm built-to-suit manufacturing facilities or 100,000 sqm distribution centres. CTP is a long-term investor and partner to its clients, with an innovative and entrepreneurial approach. This focus has resulted in 70% of all new business coming from existing clients. CTP has also developed unique, high-quality office and housing projects, such as the award-winning Spielberk, and the unique student housing concept Domeq in Brno. Remon continues to lead the company at full-speed, with big plans for the future.
More »
Richard Wilkinson, CFO of CTP added: "In 2020, we made significant progress: we saw further growth in terms of size of the portfolio, rental income and profit. We increased our market share in the region significantly and enlarged our footprint in Central and Eastern Europe with our expansion to Bulgaria and Austria. To realize our ambitious growth targets we have strengthened our organization, expanded our staff and optimized our corporate structure. On top of that, we were recognized by the international capital markets: we successfully obtained two investment-grade ratings and our bonds have performed greatly since issuance.
We are active in an attractive sector, with high tenant loyalty, and increased business satisfaction. Our pipeline looks great and we are well placed to take advantage of the favourable market circumstances, providing the solutions the markets are looking for. Our Parkmakers' vision fits seamlessly with the growth drivers in our markets: our 10 biggest parks now constitute 58% of total GLA, well located to serve capitals and strategic logistics hubs. Looking further ahead we remain ambitious: as of March 2021 we have approx. 1,000 thousand sqm under development, of which 62% is already pre-let and we are well on our way to our 10-23 target: to have above 10 million sqm of GLA by 2023."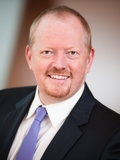 Richard Wilkinson
Group CFO
CTP
Richard started his role as Group CFO for CTP in July 2018, which includes looking after the refinancing of CTP's portfolio of over 4,5 million sqm of premium industrial property. Prior to joining CTP, Richard ran the CRE business of Erste Group across CEE for 14 years, turning it into one of the leading CRE banking franchises. He has a Law degree from the London School of Economics.
More »