Romanian real estate consultancy Crosspoint Real Estate, the local partner of Savills, is launching a new segment dedicated exclusively to residential leasing through accessing the private rental sector (PRS).
The PRS department will offer a wide range of rental properties, from apartments to family homes, in various neighborhoods in Bucharest.
"We are happy to see how the initial plan to develop new departments and solutions for the residential segment is taking shape and keep optimism high about the evolution of the rental market, at least for the next two years," said Codrin Matei, Principal Partner, Crosspoint Real Estate.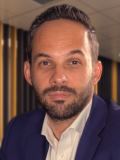 Codrin Matei
Managing Partner, Head of Capital Markets
Crosspoint Real Estate
Codrin Matei is the Co-Founder and Managing Partner of real estate consultancy firm Crosspoint Real Estate. The firm, founded in 2005, is an international associate of Savills in Romania. Codrin is currently working as Head of Capital Markets at Crosspoint Real Estate, handling international clients. He was involved in some of the biggest deals on the local market in recent years, such as the sale of The Day Tower office building in 2019 to the Corporate Finance House Group. Codrin is a certified investment consultant and holds a certification from London Business School in Corporate Finance. Before founding Crosspoint Real Estate, he worked for BRD – Groupe Société Générale, covering corporate and high-income individual clients.
More »
The agency's expansion follows a reported growth of its turnover to €2.85 million in 2022, up 17% compared to the previous year.
Alexandru Berilă, Senior Leasing Manager, Crosspoint Real Estate, added that the PRS market will grow in the coming years, the reasons being primarily related to the harsh lending process and the blocking of PUZs that will stop, for the time being, the delivery of a sufficient number of apartments. The agency estimates an increase of more than 20% in demand on the rental market in the next 24 months.