The last two years marked steep growth for the Slovak developer Corwin. With their four new acquisitions, they have grown to be the largest developer in Ljubljana and have sold their flagship project Blumental as one of the largest transactions of the year in Bratislava. In 2022, Corwin also published its first sustainability report.
The increasing push for incorporating ESG principles into company life from the side of customers and investors creates headaches for many companies, especially those that have not yet been forced by regulations to review their sustainable performance. However, Corwin has been taking strides to outpace ESG requirements to secure its position as a trendsetter in green development.
Corwin has been developing their ESG goals for over two years and has created a dedicated ESG team. Now, as the first local real estate developer in Slovakia and Slovenia, it published its first GRI-based sustainability report five years ahead of strict EU directives. Furthermore, while the EU expects private businesses to go fully carbon-neutral by 2050, Corwin has announced ambitions to create the first carbon-neutral office buildings in Slovakia and Slovenia. Slovak Einpark should achieve the prestigious LEED Zero Carbon certification by the end of this year. Slovene Vilharia is expected to be carbon neutral after the completion of the project in 2024.
"Ever since the founding of Corwin, sustainability has been at the forefront of our projects. We have been the first to introduce the market to large-scale green roofs, ceiling cooling and carbon neutrality. This year, we have also stepped up our effort in transparency by creating a dedicated ESG team and publishing our sustainability report", said Robert Mitterpach, CFO of Corwin.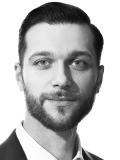 Róbert Mitterpach
CFO
Corwin
Robert Mitterpach joined Corwin in 2017 from EY's restructuring team for Central and South-Eastern Europe. He was appointed into the position of Chief Financial Officer and Member of the Board in 2019. Robert covers the general financial agenda as well as acquisitions & divestments, investor sourcing & relationship management, project financing and fundraising. He is also leading the expansion into new markets, including Slovenia & Czechia.
More »