In 2017 the Bucharest office market has posted results close to the 2016 record ones, taking into consideration transactions in Class A and B buildings. 2018 is expected to bring growth and new demand from players that are going to enter the market, but also of the existent ones who will extend or relocate. The annual Knight Frank report – European Commercial Property Outlook – estimates that European commercial property markets enter 2018 with positive momentum.
Q4 2017 the Bucharest office market saw transactions totalling more than 85,000 square meters, which balances the figures of the two semesters (over 150,000 sqm/semester). Calea Floreasca / Barbu Vacarescu maintains its leading position with regards to the areas with most market demand (16%) and is closely followed by the CBD, the Centre-West, Presei Libere Square and Dimitrie Pompeiu.
"The market is both cautious and at an alert growth pace, because investors, developers and tenants have gone through an economic crisis from which they have learned a lot and that makes them carefully analyze the existing risks and opportunities. In 2018 we are expecting an increase in demand compared to 2017, but we are not talking, for example, of doubling the number of transactions. We estimate additional large transactions of more than 20,000 square meters, which will bring Romania in a few years closer to the figures of the neighboring markets", declared Horațiu Florescu, Chairman & CEO Knight Frank Romania.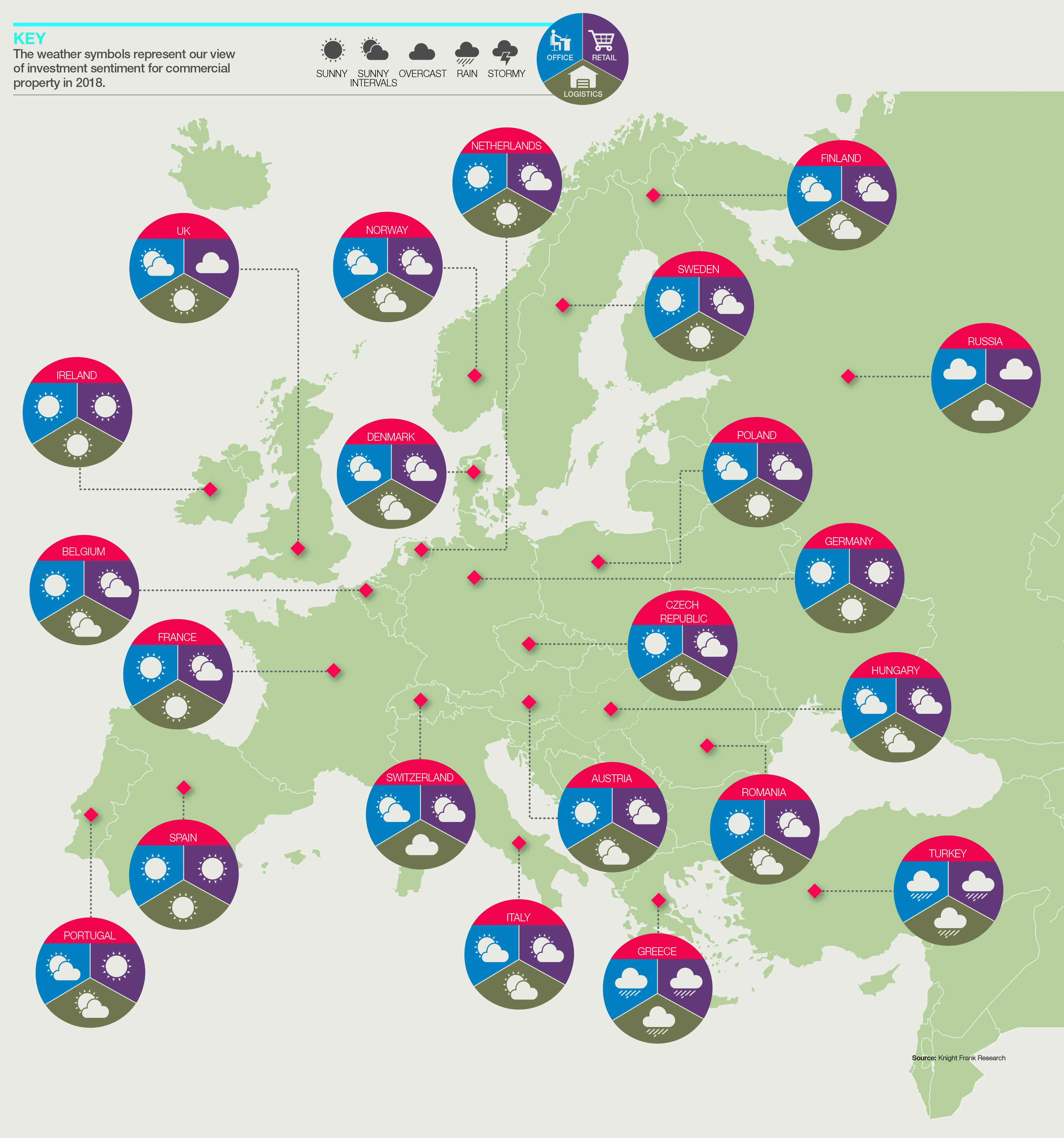 The Eurozone economy performed above expectations in 2017, with the IMF estimating GDP growth for the year at 2.1%, its highest level in a decade. Although Eurozone growth may ease slightly in 2018, the consensus is that it will remain close to 2.0%. Locally, Bucharest stays the main economy driver and the preferred investment destination in the context of national economical growth, estimated at 4,4% for 2018.
Provisional data for 2017 suggests that European commercial property investment volumes will beat 2016's total of €216 billion, but remain some way below the market peak of 2015, when over €250 billion was invested. Knight Frank expects 2018 transaction volumes to be similar to 2017
Flexible workspace and co-working is now a phenomenon and a growing trend. Technology, the growth in selfemployment and evolving workforce demands are redefining the traditional workspace. The growing appetite for flexible offices is permeating across European markets, with London, Berlin and Paris witnessing the strongest growth. The sector will continue to expand, as new styles of workspaces are developed to service a growing variety of occupier needs. The sector is continuing to extend in the Eurozone, and Nkight Frank expects the same for Romania.