Consumer behaviour is changing and shoppertainment is a big opportunity to continue to generate engagement and drive loyalty. Outlet centres can offer a wide range of branded goods and a variety of excitement for the whole family in our turbulent times, Csaba Imre, Country Manager of ROS Retail Outlet Shopping, the operator of Premier Outlet Centre in Biatorbágy, Hungary explains in our latest interview.
The European outlet market is suddenly showing clear signs of breaking: the latest sales reports point to stagnating at best, if not declining. What has happened?
Although the outlet market is a small and niche segment of the retail sector, it is worth distinguishing between the matured centres and the newer projects. The performance of the new developments is stagnating, however, the well-established centres with good locations continue to show upward tendencies, especially the ones which are not dependent on the not fully recovered tourism industry. ROS Retail Outlet Shopping is back on track with its portfolio and has a double-digit growth in sales year-to-date in comparison to 2019, at the pre-pandemic level. A slight loss in traffic will be compensated with a higher average spend per visitor.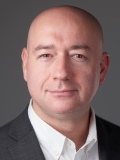 Csaba Imre
Country Manager
ROS Retail Outlet Shopping
He began his carrier in retail as a Manager of Levi's Division, and later served in several managerial positions at Samsonite Hungary. Then he became centre manager at Premier Outlet Budapest on behalf of Jones Lang LaSalle. In 2021 he was appointed to head the Hungarian operation of the Austrian company ROS Retail Outlet Shopping.
More »
The lack of qualified staff exacerbates the situation in many countries. Do you see that problem in Hungary too?
The lack of human resources has a strong impact on the Hungarian retail sector as well. The outlet stores, however, are in a more fortunate situation, as the internal design and furniture concepts in such brand stores, in most cases, are originally encouraging self-service shopping, thus product placement and communication are helping customers to find their desired products easily.
What is the main difference between Hungarian outlet centres and the one at Parndorf in Austria that was considered a rival in the past?
The difference is in the centres' location and the availability of luxury products. While the Hungarian outlets mainly rely on the domestic customer base – nevertheless in the past two years the number of visitors from Israel, Egypt, Turkey, and the gulf countries show a significant increase, especially in Premier Outlet Budapest. The outlet in Parndorf significantly benefits from international tourism as well as from visitors from Slovakia and western Hungary. This can be one of the main reasons why several luxury brands have chosen to open a store in the Austrian outlet centre.
On the other hand, the offer in the premium segment is quite levelled. In the past years the continuously strengthening purchasing power in Hungary and the leasing strategy developed together with our investors, have enabled us to secure numerous premium international brands in the Hungarian outlets.
What were the major steps to adjust the tenant mix to the changing demand in your centre?
We had to realise that the mono-brand store concepts are more welcomed by the customers of the outlets, that our visitors are pretty much brand-conscious and are looking for well-known, international brands when shopping in our centres. In the past years, we experienced a shift in the customer base towards the more affluent visitors, which proved our initiatives on securing more and more premium brands within our centres. We also regularly conduct customer surveys to discover the real demand from our visitors. Findings are implemented in our leasing strategy.
We witnessed some pop-up stores opening in outlet centres after the 2008 crisis across Europe, including Hungary. Do you see a need for those again?
Generally speaking, pop-up stores are now having a revival. They help to rejuvenate not only outlet centres but also high streets and shopping malls. Pop-up stores have proved to be a great draw for customers, as they bring a sense of excitement and make the retail experience more immersive, which permanent and online stores cannot rival.
Additionally: having such temporary retail operators is a great opportunity to fill vacant storefronts that would otherwise sit empty waiting for a long-term tenant. Temporary storefronts create buzz for the property and will help attract new tenants and test out a brand that may be looking for a longer-term lease in the future or more pop-ups.
Luckily, thanks to the contribution of our investors and brand partners, Premier Outlet Budapest is almost fully let and M3 Outlet Polgár is also above 85% occupancy level, therefore we don't have large surfaces available for pop-up operations.
What is your answer to the shoppertainment provided by many traditional shopping centres to attract families?
Consumer behaviour has changed dramatically in the past few years as a result of the pandemic. Consumers are prioritizing experiences. Shopping should be experiential. Shoppertainment is a big opportunity to continue to generate engagement and drive loyalty. In the past years, we put great emphasis on developing the social areas within our centres. Apart from the refurbishment of the external areas, in Premier Outlet Budapest additional green surfaces were created, including a centrally located green park with a high-standard wooden playground. Here a new and modern food passage was also created to fully serve the need of the visiting families as well.
Some people say online shopping is irresistible and takes out a growing some of money from the pockets of outlet centres. Is that a real danger?
Rumours of the death of brick-and-mortar retail due to growing e-commerce are greatly exaggerated. The world of retail is always on the move, especially with the rise of online shopping. Yet physical retail remains the preferred shopping channel for 60% of Europeans. New real estate concepts that can offer great shopping experiences are in high demand, while brands are increasingly adopting an omnichannel retail approach to establish new shopping behaviour.