Without a doubt, the pandemic has brought many changes for the retail market but many developers see this as a time for trailblazers. Christoph Andexlinger, Chief Operations Officer at SES Spar European Shopping Centers discussed with Property Forum the effects the pandemic had on the company's operations and shared some details about future plans.
SES has opened its second asset in Hungary, a retail park in the city of Kaposvár. Was it challenging to complete construction and finalise the tenant mix during the pandemic year?
During the pandemic year of 2020, our company developed S-Park Kaposvár, which was carried out in cooperation with Spar Hungary. Due to the fact that the construction industry was only impacted for a relatively short period of time during the first lockdown, we were able to complete the project in a record construction time of just 10 months. Generally speaking, border closures are not ideal for such projects, but we collaborated with local construction companies, thereby investing €24 million in the Hungarian economy. As an asset class, retail parks are particularly resistant to pandemics due to their high proportion of local suppliers and their favourable design, specifically, their use of external access. As a result, S-Park was also a sought-after expansion target for retail concepts in terms of leasing. Due to the lockdown measures that were in place at the time of the opening in March 2021, initially, we were only able to open three out of a total of ten stores. Nevertheless, we, along with our tenants, are confident that business will develop in a successful manner.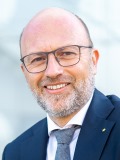 Christoph Andexlinger
Chief Operations Officer
SES Spar European Shopping Centers GmbH
Christoph Andexlinger is Chief Operations Officer of SES Spar European Shopping Centers GmbH, the strategic real estate and shopping centre division of SPAR Austria Group. As a member of the management board, he is responsible for the business areas of Center and Facility Management, PR, Real Estate Development incl. Construction Management and Architecture. His professional career began in 1995 as a product manager with Miele GmbH Salzburg. He joined SPAR Austria in 1998 as Marketing Director for the EUROPARK Salzburg Shopping Center in Austria and assumed centre management responsibilities for the SES flagship shopping mall in 2000 that was acknowledged as the World's Best Shopping Center in 2007. From 2007 to 2020, he was the Head of Center Management including Facility Management and Marketing for SES and strategically responsible for a portfolio of currently 30 large-scale shopping locations in six countries. Andexlinger is voluntarily involved in several industry, cultural and social institutions. Among other things, he is a board member of the European Council of Shopping Places (ECSP, formerly ICSC), and a member of the board of the Austrian Council of Shopping Places (ACSP, formerly ACSC).
More »
How has COVID-19 affected your operations in general? Were you able to execute your development strategy as planned in 2020?
We opened Aleja, a new, €150 million shopping centre, in Ljubljana, Slovenia. The forced downtime also gave us the opportunity to enhance our existing shopping destinations. To that end, we invested approximately €23 million in maintenance, mall expansions and refurbishments in 2020. Examples of such investments include the conversion to modern LED technology, the further upgrading of our e-filling stations, and the installation of photovoltaic systems on the roofs. Customer confidence in our locations was particularly evident last year. The exemplary hygiene management that has been implemented as a result of the pandemic has been certified by TÜV Austria at our shopping centres in Austria, Slovenia, Croatia, and Italy.
All of our centres feature a very high proportion of local supply in their shop mix, which enabled them to remain open throughout the year, even during the lockdown periods. Admittedly, however, our retail partners reported a pandemic-related decline in sales in 2020 of -13.2%. Over the same period, the performance of our stores, based on average daily sales, was slightly higher than the previous year's figures, taking into account the number of days open.
By the time spring 2021 comes to an end, we will have opened 10 new stores at our centres in Austria alone, in cooperation with a number of retailers and gastronomy operators. That is a very positive sign. This is, indeed, the time for trailblazers!
We are continuing to expand significantly, in terms of new locations, and we are working on various projects in Hungary, Croatia, Slovenia, Italy, and Austria. Naturally, the changes in the market that have been brought about by the pandemic are being taken into account.
Aleja in Ljubljana, which opened in May 2020, was dubbed the first completely new shopping centre to be opened in Europe following the first coronavirus lockdown. What has been your experience with this asset so far? Has it lived up to expectations?
Although the centre was completed on time, it was forced to remain dormant until we were able to open it – in stages. We have remained in close, cooperative contact with our tenants. Despite its challenging launch, the centre has since developed fairly well and has become a popular district centre. On average, it takes up to five years – in the midst of a pandemic or not – for such an asset to really establish itself within the market. We are convinced that things will progress more quickly at Aleja.
Retail parks emerged as a preferred asset type over shopping centres during 2020 with many investors and developers highlighting their resilience to the crisis and their advantages from a health and safety point of view. Did the retail parks in your portfolio also perform well last year? Are you planning to invest more in this segment?
So far, one of our retail parks and several district centres have been put into operation. Each location has performed very well and, despite the pandemic, has matched or even exceeded the previous year's figures. The results show us that we are on the right track when it comes to our portfolio mix.
We can't really talk about retail without mentioning the growing importance of e-commerce. How do you see the relationship between brick-and-mortar stores and online shopping going forward?
We are one of the few developers of shopping destinations in Europe to emerge from the brick-and-mortar retail sector. As a result, this topic is particularly close to our hearts. Omni-channelling will certainly be an important issue for customers and retailers in the future. However, brick-and-mortar retail must be able to successfully compete in the future as the sector is a major employer and provides places in which people can enjoy a true shopping experience. Therefore, we are committed to ensuring comparable competitive conditions and equal opportunities. We see ourselves as promoters of brick-and-mortar retail, and we set initiatives in motion. In Austria, for instance, we have developed an information platform, YIP.at, which is designed to increase the visibility of local and regional businesses.
Last year, SES pledged to install solar power systems on 50% of available roof areas by 2050 with a couple of pilot projects in Austria already in operation. Could you share some more details on this ambitious project?
From the outset, SES has paid more than just lip service to the issue of sustainability. As a developer, constructor, and operator of retail properties, we are committed to making an even greater contribution to climate protection via sustainable property development. To that end, SES has established a clear energy policy. We implement customized concepts, taking into account "green building" aspects, in cooperation with leading local, national, and international partners.
The 520-kWp photovoltaic system mounted on the roof of the Weberzeile shopping centre in Ried, Upper Austria, which produces around 500,000 kilowatt-hours of clean electricity per year for the centre's own use and saves around 128 tons of CO2, is SES' latest ecological benchmark project and satisfies approximately 30 percent of the centre's own electricity requirements. Atrio Villach utilizes geothermal energy by means of thermo-active piles. At Sillpark Innsbruck, up to 50% of our electricity requirements are covered by our own power plant and 100% of the electricity we purchase is green.
SES uses an energy management system in accordance with ISO 50001:2018, which has been successfully certified by TÜV Austria.