Dorota Latkowska-Diniejko, Vice-President of the Board of REINO Partners talked to Property Forum about the changes caused by the pandemic in the Polish market and waiting for the long-awaited law implementing REIT-type financial structures.
REINO Partners manages the former Grupa BUMA office portfolio of 11 properties located in Kraków and Wrocław. How do you cope with COVID-19 economic effects 16 months after the outbreak?
The acquisition took place in January 2021, so we took over this portfolio during the pick-up phase of the pandemic in Poland. As some of the projects were still under construction with vacant space, we carefully analysed the market and office trends. After a slowdown in demand for new office space, we are currently observing increased interest and comeback of many suspended leasing processes. We also manage Malta House in Poznań and Kapelanka 42B in Kraków, where we were able to find new tenants or extend and expand existing leases even during the pandemic. It means not every business stopped because of COVID and not every task can be successfully managed from home in a longer-term. We successfully passed through COVID phases so far, as we have been working closely with our investors and financing banks and responded quickly to the difficult situation in the gastronomy and fitness sectors.
The office market will certainly undergo many deep changes in terms of working organization. Do you think that demand for office space in Poland may shrink in the long run?
It seems that we will stay with the hybrid model for some time: a combination of office work and remote work in various proportions, as a way for employees and employers to take advantage of the benefits of both forms of work. As a consequence, flexible and technically efficient office space will be in high demand. In addition, due to the global trends, we should expect growing demand for temporary and flexible space, especially within newcomers. And in a longer perspective, demand for office space should be recovering as managing and growing up teams, developing a corporate culture is more challenging with scratted employees and IT systems only.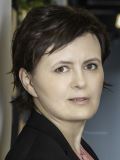 Dorota Latkowska-Diniejko
Vice-President of the Board
REINO Partners
She is a graduate of the Warsaw School of Economics and Post-Graduate Studies in Property Valuation at the Warsaw University of Technology and Sheffield Hallam University in Property Valuation and Management. She has an MBA from the University of Minnesota and Carlson School of Management. She has over 20 years of experience in the property industry in CEE. She began her career at USAID in Warsaw, where she was a member of a team preparing a mortgage loan system for Poland. In 1995-1998, she worked at Price Waterhouse Nieruchomości, where she started out by establishing one of the first commercial and residential property research teams on the Polish markets. From 1998, she was co-developing the Polish unit of leading global property-market adviser – Knight Frank, where she progressed all the way up to partner and shareholder. At Knight Frank, she headed the Capital Markets division for many years, focusing on the investment market and property development and financial advisory. She worked for Von der Heyden Group, one of the top developers in Poland in the office and hotel segment, the first Polish property funds Arka BZ WBK FIZ and BPH FIZ SN, as well as for international funds (including Credit Suisse, SEB, Rutley, REEFF, DEKA, AIB Polonia Property Fund, Pramerica, Invesco, AZORA). She participated in capital raising and debt financing projects, buying and selling properties, transaction structuring, due diligence and the drafting of transaction documentation along with legal teams. The total value of transactions with her participation has exceeded €3 billion.
More »
One of the winners of the new economic situation is undoubtedly the warehousing market. Each month, foreign investment funds announce another acquisition of warehouse properties in Poland. How long, in your opinion, will that investment boom last?
High demand puts pressure on rental growth in many countries, which may influence a further shift in relocating facilities towards countries like Poland as we are still one of the cheapest markets in Europe. E-commerce growth was further accelerated by COVID-19 and demand for warehouses dedicated to e-commerce nearly doubled on less-developed markets like Poland. The growing e-commerce market will be one of the key drivers of logistic demand in the following year. Many supply chains have been broken by COVID-19 and nearshoring is a new trend, which may change some of the established warehousing maps, so I'm sure we still see more international investors names on the Polish logistics investment market, looking for opportunities in our country.
Which industry segments, except e-commerce, will increase demand for warehouses in the nearest future?
Of course, e-commerce is a very strong driver for growth in the warehouse market. But not the only one. Logistics is undergoing major changes in virtually every industry. The entire FMCG works on shortening the supply chain and its diversification. Producers of electronics, household appliances and IT, and even clothes, also want to diversify their production so as not to be dependent on factories in Asia. On the other hand, Poland with further development of shipyards in Gdańsk and Gdynia may interestingly influence future supply chain options from Asia and Central Poland can be considered as a European hub for further distribution, as you can reach at least a few countries within 24 hours.
REINO Partners was one of the first companies, offering REIT-type investment structures to Polish investors. However, there is still no law regulating REIT functioning in Poland. Why?
REITs in Poland have been a very hot topic for over the last 5 years. No wonder, as Poland is among very few countries where there is no legislation letting domestic investors participate in larger transactions on their own commercial real estate market. Even though the market has been booming for the last two decades, attracting investors from the entire globe it is still one of the most profitable, crisis-resistant, prolific and full of potential for further growth in Europe. In a result, foreign REITs make money for their investors while the Polish ones are sidelined. That is why REINO has been lobbying very actively for that - difficult to understand - situation to be changed as one of the reasons, why REINO has been set up was to activate Polish equity in the commercial real estate market.
Financing conditions: any changes expected in the coming year?
We don't see any changes at the moment besides the fact that banks became more selective on projects and sponsors which should positively verify the market and limit supply to adjust to current demand. The situation may change if interest rates start growing.
What are the plans of REINO Partners for the next 18 months?
At the moment we focus on the extension of existing portfolios for existing investors and starting cooperation with new investors entering the Polish market. Taking into account the fact that we are on the ground and travels are still restricted, we are getting more proposals to lead asset management for newcomers in both sectors. We have currently over €500 million under management and would like to double it within 1-2 years.