Upon completing the acquisition of a 66% stake in Wrocław-based developer Archicom, Echo Investment is set to become the largest residential developer in Poland. Nicklas Lindberg, CEO of Echo Investment talked to Property Forum about the recent acquisition, dealing with the effects of the pandemic and Echo's plans for the nearest months.
Let`s start with something easy. When will you get bored of being a real estate market dominator in Poland?
Probably never. Each time we achieve a leading position in one of the sectors, the real estate market evolves and we find ourselves a new challenge. Take, for example, the rental apartments sector in Poland. In 2018, we started an innovative line of business by launching Resi4Rent, the first private institutional residential platform for rent in Poland. Today it has an offer of over 1.5 thousand apartments and approx. 3 thousand units under construction and preparation, and by 2025 it will grow to 10 thousand apartments. It is the biggest privately-owned company offering units for long-term rent.
Our recently achieved acquisition of Archicom enables us to become a nationwide leader in the residential sector. We have signed a preliminary agreement to purchase a 66% stake in Archicom, a development company in Wrocław. Once the transaction is finalized, the Echo-Archicom group will be the largest developer building apartments for sale and rent in the country. Only in 2021, we will start the construction of 7 thousand units!
Resi4Rent is a very ambitious project. However, residential rents are falling, affected by the pandemic and an increased supply of apartments from the short-term rental market. Is it a temporary situation or a strong market trend for upcoming years?
In Poland, the demand for apartments for rent is systematically growing and we expect the upward trend to continue, which will be visible mainly in large agglomerations. Resi4Rent has already five projects in its offer – two of them were delivered last year. In September the company began renting its first project in Warsaw and just after a couple of months upon completion, more than 60% of apartments in the Resi4Rent project in Warsaw Brewery have their tenants. In 2020, the company also opened its second project in Wrocław, which includes two modern buildings in Kępa Mieszczańska that were quickly fully leased.
The professional rental market doesn't exist yet in Poland. Resi4Rent is a unique offer of brand-new apartments in good locations, fully fitted-out and with a clear and safe agreement which is not the case of the current offer provided by private individuals. I agree that the rental prices are temporary going down but they will bounce back shortly and we are in this business in the long-term perspective. The Resi4Rent offer is much better and provides higher quality to the clients. Such an offer keeps the prices even in more challenging economic circumstances and this will continue.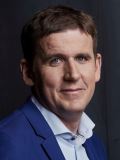 Nicklas Lindberg
CEO
Echo Investment
Nicklas Lindberg was appointed CEO of Echo Investment in 2016 and he is responsible for the strategy and development of the company. Until 2015, Nicklas Lindberg was employed by Skanska Group, where he held several top positions, such as president of Skanska Commercial Development Europe (CDE), head of Skanska Property Poland, CFO and CEO of Skanska Russia and a manager of residential development units in the Nordics. He graduated from the University of Lund in 2001. The launched Strategy of Profitable Growth transformed Echo Investment into a pure developer operating in seven major Polish cities, a market leader in residential, office and retail real estate sectors. The Group started to design and build urban 'destination' projects, that combine all functions and are well-designed parts of the cities, where people can live, work and entertain. It has also introduced operation in the flex office space (CitySpace) and the rental apartments (Resi4Rent) segments.
More »
The office market is going to undergo serious and severe changes in the coming years. Effects caused by the COVID pandemic may prove to be permanent. Can we expect reduced demand for office space in the nearest future?
In our opinion, the office segment will continue to develop. People are returning to normal work in the office, they need space for cooperation, physical meetings. More and more people also appreciate the clear distinction between home and work as an element of maintaining the so-called work-life balance. Despite the market challenges, we still observe the interest of new office tenants who intend to grow in Poland and need a safe and high-quality space in the best locations. Of course, negotiations and talks during an epidemiological threat were a bit slower, mainly due to tenants' considerations about the size of office space that would be best suited to their current needs. However, we are still signing lease contracts for relatively large areas and we expect to continue signing them in the near future.
Our great advantage is having a partner like CitySpace, which allows meeting the needs of tenants not only in the market of long-term contracts but also in the segment of short-term contracts. Over the last few years, the Polish office market has undergone a huge transformation, and flexible solutions attract a group of clients that is more and more diverse. Last year had also shown an increase in the importance of suppliers of flexible office space and we can see that this trend is continuing.
Are you going to limit the activities of Echo Investment on the retail market because of the pandemic turmoil and people leaving shopping centres for e-commerce?
At Echo, we focus on city-forming investments that combine apartments, offices, as well as retail facilities. We believe they are more efficiently designed, improve the functioning of the city and are much better received by local authorities and the community. This is due both to the company's strategy and the current market and urban trends. Yes, we will continue to be active in the area of the retail sector, but this will be completely different retail than the traditional one. Today's retail needs to focus on making our destinations alive and inviting – it needs to be an attractive place for meetings, spending time or securing people's everyday needs.
How do you make sure that you build city-creating destinations rather than clusters of buildings deserted every day after 5 pm? What's your recipe?
We believe that as a developer we are responsible for co-creating good urban space. We want to create places that are nice to live in, good for work, pleasant to spend time with family and friends. This requires us taking responsibility for public space between different buildings and taking long time ownership to make sure the places maintain relevance in today's quickly changing environment. What is a recipe for a city-forming mixed-use project? Good diagnosis of local needs as well as effective cooperation with stakeholders: community, all range of organisations, administration and neighbours.
Sky-high land prices or sluggishness of officials – what is the bigger problem for developers in Poland today?
For us, as a company that focuses on large, destination projects, the main problem is a decreasing number of attractive, well-located plots. Large Polish cities are already well-urbanized, therefore the availability of areas with a clear legal situation, well-connected, covered by master plans or with clearly determined function, is limited. We are constantly seeking new acquisition opportunities which, i.e. resulted in last year's purchase of three plots belonging to the Tesco group in Poznań, Łódź and Kraków, where a total of approx. 240 thousand sqm of modern residential, office, as well as shopping and service space, may be created.
What is Echo Investment planning in terms of new projects in 2021?
In 2021, we plan on strengthening our position in the residential sector as Echo-Archicom and building multi-functional, urban projects called "destinations" where people can live, work and spend their free time. We intend to keep our business diversified. We will remain active in the commercial sector, maintaining our position in the top three office developers.
In total, in the Echo-Archicom group, we have about 4 thousand apartments under construction, and in 2021 we are starting the construction of another 4 thousand units for sale and an additional 3 thousand for rent. Our landbank gives us the potential to provide over 15 thousand apartments for sale in the coming years, which is incomparable to anyone else on the market. In 2021, we will complete the construction of two office buildings, and we have more projects in the pipeline. This is also the year of completion of our flagship project – Warsaw Brewery, which now goes through finishing touches.