Affan Yildirim, General Manager, Board Member of Anchor Grup and Board Member of Shopping MallDova, spoke with Property Forum about the company's experience on the local market for the last 25 years and the new investments planned in Bucharest in the next period, with the aim of transforming the local real estate industry.
This interview was first published in Property Forum's annual listing of "The 50 most influential people on Romania's real estate market".
What have been some of the main achievements of Anchor Grup in the past 12 months and what are your plans for this year?
Anchor Grup is permanently trying to strengthen its activity in the Romanian real estate segment and bring new projects to the local market. In a context marked by unpredictability, the company has successfully adapted and become more flexible and focused on partners and consumer needs. Our company is constantly working on improving the mix of tenants in the commercial centres in the portfolio – București Mall and Plaza Romania. Among the partners that brought new shopping experiences to our malls are Teilor Orange Concept, an exclusive store recently launched in București Mall, Noodlz, Lensa, Mayoral and others.
All the brands that we have attracted are transforming our malls into one-stop-shop destinations, where all our visitors can find everything they need. For the residential business segment, an important achievement was the launch of a new project, Select Residences, which will offer its residents comfort and multiple facilities, being positioned in a semi-central area of the city, in the vicinity of București Mall and near educational institutions (kindergartens and schools), but also close to leisure areas, with quick access to public transportation.
In its first 25 years on the Romanian market, Anchor Grup has developed valuable projects, whether it is retail, residential or office. We are determined to contribute to the transformation of the real estate industry and to the improvement of local communities. At the same time, we continued to look for new business opportunities that could contribute to the evolution of the sector in question.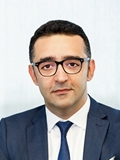 Affan Yildirim
General Manager and Board Member
Anchor Grup Romania
Affan Yildirim has been the General Manager and Board Member of Anchor Grup since 2015. He joined the Board of Shopping MallDova two years later. With a solid academic background in finance and business administration, Affan began his career at PwC, one of the biggest multinational audit and consulting companies, and after 7 years he became CFO and Vice President of Credit Europe Leasing IFN. In 2012, Affan was appointed CFO of Anchor Grup and he was subsequently chosen to be interim General Manager. Three years later, he was appointed General Manager of Anchor Grup and coordinated the complex refurbishment of the two shopping centres owned by the company– București Mall-Vitan and Plaza România.
More »
How is your new residential investment received in the market?
Launched on the market last year, after a planned investment of €40 million, of which approximately half is covered by financing from Libra Internet Bank, the partner bank in the development of the project, Select Residences has proven to be a successful project. It has managed to attract massive interest since its official launch, with more than 50% of apartments pre-contracted in the first six months. Market signals continue to be positive and demand for quality projects is still high in the residential sector.
Are you exploring new investments in Bucharest or other cities?
Anchor Grup continues its investments in Romania, which have exceeded €550 million so far. Currently, we have another project in the planning phase, in Drumul Taberei, for which we are waiting for the construction permit. We will have about 450 more apartments and, after this project, it is possible – if we meet all the requirements of this planning stage – to have a mixed project in Voluntari. We have a very large portfolio of land, and we will continue to develop projects that bring value to the Romanian real estate market. We are also looking for new opportunities in the green energy area and we are also considering implementing a project with solar panels.
What are the milestones of Anchor Grup in Romania in 25 years of activity?
In Romania, Anchor Grup focuses on three main business segments: retail – București Mall and Plaza România; residential – InCity Residences, Pallady Towers and Select Residences; office buildings – Anchor Plaza and Plaza România Offices. In its 25 years of presence in Romania, Anchor Grup has developed numerous successful projects, being "responsible" for many firsts in the local industry. To this day, the company has maintained its position through outstanding actions in all its business segments.
Anchor Grup developed the first modern shopping centre in Romania, București Mall, which has become an urban landmark and a shopping destination for the local community. Romanians watched a 3D movie for the first time at Movieplex Cinema, the cinema in Plaza România. Renovating both malls while keeping them functional was another major project that we are proud of and want to highlight, being another unique initiative for the local market. Designers Boutique, in București Mall, represented yet another retail premiere and one of the first CSR projects that supported Romanian designers.
Also, if we refer to the office segment, Anchor Grup was the first developer to launch an integrated mixed project, Anchor Plaza being built near Plaza Romania.
In the first 25 years in Romania, the company had a great journey, and we hope that the next 25 years will be at least as amazing.
How is the one-stop-shop concept working for your portfolio of retail properties in Bucharest?
The shopping centres in our company's portfolio are one-stop-shop destinations, due to their compact layout, as our strategy aims at providing a convenient, quality, and efficient shopping experience for customers who want to find and solve everything they need, in one place. This concept, backed by our constant work to improve the mix of brands in both of our shopping centres, especially by adding exclusive "destination" shops and services, proved to be very successful in attracting and retaining customers, who are more engaged and likely to return for their future shopping needs.
Both shopping centres are easy to access due to key positioning in the city, easy to shop and include strong, attractive differentiators when it comes to the tenant mix.
What is Anchor Grup's approach to the sustainability of its property portfolio?
Anchor Grup's vision is to transform opportunistic plans and ideas into innovative concepts and realistic projects, considering aspects related to community needs and commercial feasibility and putting long-term sustainability among our top priorities.
During its 25 years of experience in the market, the company has acquired extensive know-how and expertise in identifying good, but also sustainable investment prospects.
How is Romania's business potential looking in the long term and what will it mean for demand in your property assets?
We consider Romania a very good market for any company that wants to grow and that wants to capitalize on new opportunities and create affair synergies. The business environment in Romania is strong, active, dynamic and competent, with valuable initiatives.
In the 25 years of experience in the Romanian market, Anchor Grup has managed to create a successful business and long-lasting partnerships, that were and remained the main value of Anchor Grup. The relationship with our partners is very strong, we have been collaborating with some of them for over two decades and together we managed to overcome challenges and mature and grow.
We confidently look at Romania and its market and see a friendly and vibrant context. Romania is an investment hub that has always generated very good results for shareholders who have developed long-term business strategies. We maintain our trust in Romania, in the long term and we keep on developing our plans and strategy for the local market.