The change in the office market which we witnessed in 2021 was only the warmup for what is to come in 2022 and forward. The sharing economy and digitization are driving the disruption in the office industry and the adaption of hybrid work models from international corporations are acting as a booster. New Work's annual Flex Office Market Report 2022, presented in Warsaw and broadcasted internationally, provides some insights.
While in 2019 the market still questioned whether flex is here to stay, by 2021 flex has become a must-have for every landlord and the question for 2022 is: "How much flex do I need to add to my portfolio to stay competitive?"
Demand for flex office solutions is accelerating, not only because of uncertain planning horizons that tenants face in today's fast-changing business environment. We are observing changes in lifestyle, social values and behaviours, triggered by work from home policies during the pandemic and flex better accommodates these changes than traditional offices.
More and more corporations around the globe are switching from an office-centric to a human-centric approach and are implementing hybrid workplace strategies. The headquarters of the company will not be the main place of work anymore. Rather, it is becoming a place for collaboration, socializing and meetings. Once companies have gone through this change of culture, it will lead to a significant reduction in space requirements.
"With all these changes in place, the flex office industry is becoming the fastest-growing segment in real estate besides logistics. The implementation of digital tools for marketing and sales purposes trigger the infiltration of flex even further as this product is predestined for such applications," explains Hubert Abt, CEO and Founder of New Work and workcloud24.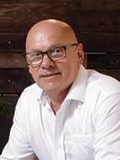 Hubert Abt
CEO
New Work & workcloud24
Hubert Abt has been working in the real estate industry for over 30 years. He worked as a developer and later in the land banking sector and provided equity and Mezzanine capital for various real estate projects. In 2012, he founded New Work Offices in Budapest, which provides various flexible office solutions. Since then he developed the business model further and grew the company to today 5 locations in 3 countries with approx. 45,000 sqm which brings New Work Offices in the top 3 list in CEE. Hubert now leads the company as CEO while focusing on investor relations and developing new products like New Work´s Franchise Package or The Digital Office Pass of workcloud24 where he acts as Founder and CEO as well.
More »
Besides its convenience, immediate availability and the flexible terms it offers, with no further Capex needed, the increasing demand for flex offices is based on the fact that people have gotten used to the advantages of the sharing economy in many areas of life. As soon as the office industry transforms their current product, "Space as an Office" and starts to offer "Space as a Service", clients will use these services the same way they use carsharing today.
The real estate industry is not the first, but one of the last industries adapting to digital products and services. The need for digitization comes from different angles and is irreversible. If office operators want to comply with ESG requirements, the needs of hybrid workforce management and provide their customers with smart solutions they have access to in every other aspect of life, they must invest in technology.
"Landlords who are not able to provide flexible terms and conditions, will miss out on 30 % of market potential," says Hubert Abt.
Despite guaranteed growth, the flex industry is facing challenges
The flex workplace industry took a serious hit with the onset of the pandemic and while the recovery of 2021 had been impressive, the fight for increasing occupancy came with a price of lower revenues per workstation. According to the latest survey of DESKMAG from December 2021, 70 % of operations are not profitable.
Still, the overall outlook is highly positive. According to DESKMAG, 79 % of operators described their business situation as satisfying in November 2021, while in 2020 this figure was only 50 %. 62% reported improvements during the past 3 months and 41% expects to see further improvement during the next 3 months.
"While in 2019 only 5% of flex space within a building was perceived as a healthy share, today this figure is already above 10% and it is developing further towards 20 %. In line with this trend, New Work aims to open 10 new locations together with local partners in 5 different countries in 2022 and expects further growth via its franchise network in shopping malls and large residential developments. The company is dedicated to keeping up with ESG standards and to playing a front-runner role when it comes to providing content to the market," concludes Hubert Abt.